PDO buffalo mozzarella and ricotta ravioli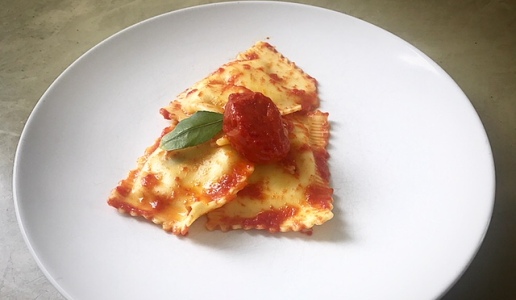 Ravioli is a typical fresh-pasta dish in Italian cuisine, authentic pockets of goodness the filling of which differs from region to region. This recipe from the region of Campania is easy to make and has a filling with a delicate flavor that is exalted by a sauce made with sweet tomatoes.
Rather than make a regional pairing, we suggest consuming it with an Alto Adige Pinot Bianco, Schulthauser 2016 from the San Michele Appiano/St Michael Eppan.
Ingredients for 4 people:
For the ravioli dough: 4 eggs, 250g white flour, 150g durum wheat semolina and salt.
For the filling: 300g PDO Campanian buffalo ricotta, 200g PDO Campanian buffalo mozzarella, 50g basil leaves, thyme, chives, salt, pepper and extra-virgin oil as needed.
For the sauce: 250g San Marzano tomatoes, 50g extra-virgin olive oil, 1 garlic clove basil and salt.
Directions:
Make the dough either by hand or using a machine mixing together the two flours, eggs and a pinch of salt. Keep kneading the dough until it is smooth and elastic. Wrap the dough in plastic and then let it sit at room temperature for at least 30 minutes.
In the meantime, mix the drained ricotta with the mozzarella that has been cut into fine pieces after being left to dry (best if for an entire day). Add in the chopped aromatic herbs, salt, pepper and a trickle of EVOO. Mash well and put the filing into a pastry bag.
Use a pasta machine roll out the dough to a thickness of around 3mm.
Distribute generous amounts of filling on the dough leaving sufficient space between the mounds. Cover the dough with a second sheet of dough and using your finger press and seal each ravioli so the filling won't come out during cooking.
Use a pasta cutter to divide the ravioli and place them one at a time on a four-covered cotton towel.
Make the sauce by cutting the tomatoes in half and placing them in a pan with EVOO and garlic. Cook at a low heat for around 20 minutes until it gets thick. Salt to taste.
Boil the ravioli for around 3 minutes, drain and mix with the hot tomato sauce.
Serve with a basil leaf on top.
Wine to pair
(edited by Stefania Vinciguerra)
Pinot Bianco Schulthauser 2016 San Michele Appiano / St. Michael-Eppan

Schulthauser, having been vinified and bottled for the first time in 1986, is the consummate fresh-and-fruity South Tyrolean Pinot Blanc. Straw yellow color with a green shimmer. Clean fruity notes of apple, apricot and pear to the nose. Lively and balanced to the palate with a fruit-incised creaminess.
Production Area: Vineyards at Schulthaus, above Moos Castle, in Eppan Berg (540 to 620m). Southeast exposure, limestone gravel with clay soil,
Grape Variety: Pinot blanc, age 10 to 40 years. Training systems are Pergola and Guyot.
Wine-making: Harvest 2016 was in early october; harvest and selection of grapes by hand. 75% of the grapes is fermented in stainless-steel tanks and the remainder in oak barrels, followed by malolactic fermentation. The two wines are combined in February.
Alcohol Content: 14% vol.
Serving Temperature: 8-10°C.
Suggested Food Pairing: A premium aperitif and summer wine, it is also quite versatile when it comes to food pairing: it goes well not only with seafood and fish but also with delicate dishes made with wild fowl. It is especially recommended as an accompaniment to South Tyrolean Schlutzkrapfen.
Storage Potential: 4 to 5 years.