Monkfish nuggets on a saffron sauce with dried Parma ham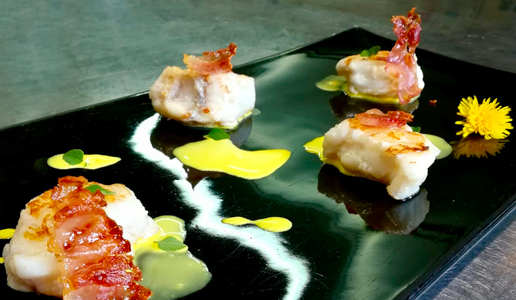 A recipe from Chef Fabio Belcielo of the Podernovo restaurant of Castello delle Regine. We pair it with an Alto Adige Chardonnay Riserva Cantina Bolzano.
Ingredients for 4 people:
120g monkfish, 1 slice of cured Parma prosciutto, fish broth, 1 tablespoon flour, 1 knob butter, saffron and fresh marjoram.
Directions:
Place the slice of ham on a pan and bake until it becomes crispy and dry and then let it cool.
Melt the knob of butter in a pan with a level teaspoon of flour and brown. Stir in fish broth until it becomes a creamy sauce. Add the saffron then remove from the heat and cover to keep warm.
Cut the monkfish into nuggets and fry in a pan with a little oil at a medium heat for 4 minutes. Make sure the fish stays soft and juicy.
Spread sauce on a serving plate and place the fish nuggets on top and garnish with the dried ham and fresh marjoram.

WIne to pair:
Alto Adige Chardonnay Riserva Doc Cantina Bolzano
Straw yellow color. Clear and ripe aromas of yellow fruits and aromatic herbs. Powerful, creamy taste but agile and with a very savory finish. It has an outstanding ageing potential.
Production area: Warm rocky porphyry slopes of Renon, above Bolzano, at 650 m a.s.l. (2100 ft)
Grape variety: Chardonnay
Wine-making: Harvest end of September. Vinification: gentle pressing of the grapes, acoholic and malolactic fermentation, 12 months ageing in barrique and tonneau barrels. Further ageing in the bottle.
Alcoholic content: 13,5% vol.
Serving temperature: 10-12 °C (50-54 °F).
Suggested food pairing: Grilled fish, crustaceans, white meat and poultry dishes.
Related Products