Mini Neapolitan tortano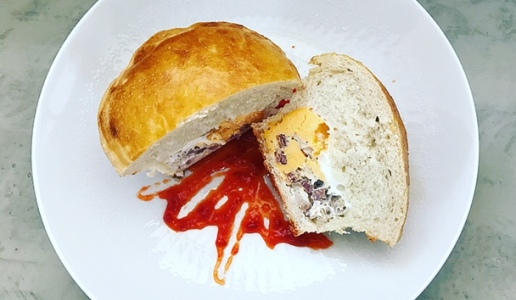 A "pint-size" and light version of the legendary Neapolitan salty pie for which we suggest an unusual yet convincing pairing with a Quercioli Reggiano Lambrusco Secco Ermete Medici.
Here we substitute the lard in the dough with extra-virgin olive oil which makes it lighter without losing any of the aromas and flavors. It is thus a reinterpretation of the classic recipe that allows you to eat it throughout the year with a touch of color, like a Piennolo tomato sauce.
Ingredients for 8 mini-tortani:
For the dough: 250g white flour, 25gr beer yeast, 100g extra-virgin olive oil, 20g grated pecorino cheese, salt and pepper as desired.
For the filling: 70g of mixed cheese cut into pieces (provolone picante, Swiss cheese and unaged pecorino Romano), 50g cooked ham and mortadella cut into pieces and 8 hard-boiled eggs.
For the sauce: 300g Piennolo tomato purée, 1 tablespoon EVOO and salt as needed.
Directions:
Make the dough by mixing together all the ingredients with the yeast having been first dissolved in warm water. Knead and let the dough rise until it has doubled in size.
Divide the dough into eight equal-sized balls and flatten them with the palm of your hand to make a hollow to place for the filling that has previously been prepared.
Close the dough back into a ball and place them in greased aluminum molds (10cm in diameter).
Brush some EVOO on top of each ball and let them rise for about an hour.
Bake at 180°C for the first ten minutes and then lower the heat to 150°C and continue baking for at least another 45 minutes to give them a golden color.
In the meantime, prepare the tomato sauce with oil and salt and cook for 20 minutes.
Remove the mini-tortani and serve with a ladle of tomato sauce on top.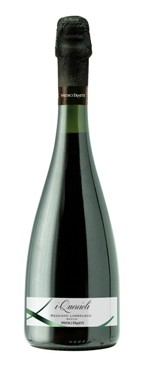 Vino in abbinamento:
(edited by Stefania Vinciguerra)
Querciolo Reggiano Lambrusco Secco 2017 Ermete Medici
When poured, the wine is lively ruby red with fine and rich froath. Pleasant and persistent bouquet with violet scent. Dry to the palate, fruity, fresh, lively and pleasantly harmonious taste.
Production Area: Reggio Emilia, on clayey soil.
Grape Varieties: lambrusco salamino e lambrusco marani, spurred cordon trained.
Classification: sparkling dry red wine at natural fermentation.
Alcoholic Content: 11% vol.
Sugar: 14 g/l.
Serving Temperature: 14-15°C.
Suggested Food Pairing: particularly suitable with Emilia-Romagna cuisine.