Meatballs with datterino tomato ketchup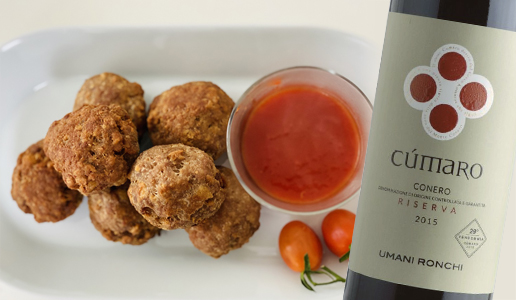 A classic home recipe with a twist: a sweet and sour sauce. We pair it with a Conero Cùmaro Riserva 2015 Umani Ronchi.
Ingredients for 6 people:
300g ground beef, 200g dried bread, 70g grated Parmigiano Reggiano, 3 medium-size eggs, parsley, garlic, salt, pepper and bread crumbs as needed.
For the datterino tomato ketchup:
700g datterino tomatoes, 1 garlic clove, 1 celery stick, 1 tablespoon brown sugar, 1 tablespoon apple cider vinegar, 1 tablespoon extra-virgin olive oil, 1.5 tablespoons Worcester sauce, salt, pepper, chili pepper and potato starch as needed.
Directions:
Begin by first preparing the ketchup, washing the tomatoes and cutting them into two.
Place the cut tomatoes in a pan with the celery that has been cut into small pieces, chopped garlic, sugar, cider vinegar, EVOO and Worcester sauce. Add a pinch of salt, pepper, chili pepper and bring to a slow boil and cook for around 30 minutes, stirring occasionally.
Strain the sauce while it is still hot and quickly mix in a tablespoon of potato starch.
Cook for a few more minutes to thicken.
Preparing the meatballs: cut the dried bread, removing the crust, and soak it.
Mix together the eggs, ground beef, chopped garlic, Parmigiano, parsley, softened bread, salt and pepper.
Mash and add some breadcrumbs if needed to give greater consistency. Make meatballs and fry them in hot oil.
Serve hot with the datterino ketchup.

Wine to pair:
(edited by Stefania Vinciguerra)
Conero Cùmaro Riserva 2015 Umani Ronchi
Very intense ruby red color. Aromas of dark fruits, black cherries, nuts, violets, spices and tobacco. Rich taste, full bodied and deep. Balanced tannins and persistent finish.
Production area: The vineyard from which Cùmaro originates is situated on the edge of the municipality of Osimo, facing south-east, at a height of about 150-200 meters above sea level. The terrain, which started out as marine formations from the Pleiocene-Pleistocene era, consists of very deep, chalky loams soils.
Grape variety: 100% Montepulciano. The yield is kept within strict limits by very close pruning and targeted thinning and can vary from five to 6-8 tons per hectare according to the season.
Harvest: The grapes are picked by hand, collected and transported in boxes. Montepulciano is a fairly late variety. Usually, harvest takes place in October, when the grapes have reached peak condition with an advanced degree of phenolic ripening.
Winemaking: The grapes are destalked and lightly crushed, then fermented at 27-29°C in steel fermentation tanks for 12-14 days with natural yeasts. Subsequently, the wine moves on to the malolactic fermentation stage, at the end of which it is aged in 225 liters oak barriques for a period of 12-14 months. After bottling, it ages further, in a temperature-controlled environment, for about 6-8 months.
Serving temperature: 16-18°C.
Suggested food pairing: A fine companion for rare-cooked red meat, game-birds and mature cheese.
Curiosity: The name Cùmaro is a tribute to Mount Conero, kòmaros in Greek, which means 'arbutus': an ever-green shrub which grows freely in its woodlands.
Related Products