Lard-wrapped pork filets in a dried-fruit crust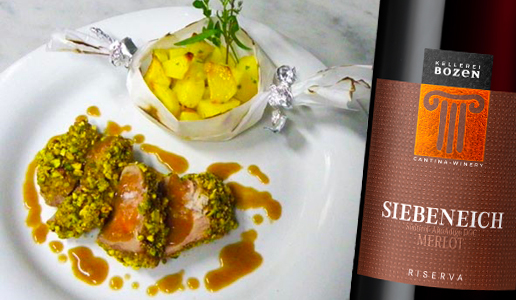 To be topped with a Marsala sauce according to this recipe from Chef Giovanni Santoro of the Shalai Resort in Linguaglossa, in the province of Catania. We pair it with a wine from the opposite end of Italy: Südtirol/Alto Adige, a Merlot Riserva Siebeneich 2017 Cantina Bolzano/Kellerei Bozen.
Ingredients for 4 people:
4 pork filets 150g each, 1 tablespoon butter, 1 garlic clove,2 laurel leaves, 1 rosemary sprig, 100g OO flour, salt and pepper as needed.
For the dried fruit crust: 200g breadcrumbs, 50g pistachios, 50g almonds, 50g pine nuts and 50g hazelnuts.
For the filet wrapping: 8 slices of lard, 2 egg yolks.
For the Marsala sauce: ½ bottle Marsala, 1 tablespoon butter, 1 garlic clove, 2 laurel leaves, 1 tablespoon sugar, 2 teaspoons potato starch and salt as needed.
Directions:
Flour the pork filets and then brown them in a pan with the butter, garlic, laurel leaves and rosemary. Place them in a tray and let them cool.
For the dried-fruit crust: Blend all the ingredients in a mixer and add salt and pepper as desired.
For the pork wrapping: Once they have cooled, wrap each filet with two slices of lard then brush them with egg yolk and bread them abundantly with the dried fruit mixture.
Bake for around 10 minutes at 190°C. The meat should not overcook, to avoid it drying out, so ensure the inside remains pink.
For the Marsala sauce: In a small pan add the butter, garlic and laurel leaves. Pour in the Marsala then add salt and sugar to taste and bring to a boil and reduce by at least 1/3. Dissolve the potato starch in cold water and add it to the Marsala sauce. Boil for another few minutes then filter the sauce.
Plate presentation: Place each crusted fillet on the side of a plate and top with a few tablespoons of Marsala sauce. Add baked potatoes or another side dish of choice on the other side of the plate.

Wine to pair:
(edited by Stefania Vinciguerra)
Südtirol • Alto Adige Merlot Riserva Siebeneich 2017 Cantina Bolzano/Kellerei Bozen
Intense ruby red color with garnet hues. Bouquet of ripe berries, herbs, humus and spices. Structured and complex flavor with soft tannins and a persistent aftertaste.
Production area: Selected vineyards with warm and dry quartz porphyry soils, on selected gentle slopes at Settequerce near Bolzano.
Grape variety: 100% Merlot.
Harvest: Beginning to mid-October.
Vinification: After traditional red wine fermentation in wooden vats, the young wine matures for about a year in French barriques and in large wooden barrels.
Alcohol content: 14.50% vol.
Serving temperature: 17-19°C
Recommended food pairings: Substantial dishes with grilled dark meats, game, wildfowl and hard cheeses.
Related Products