Lamb in gravy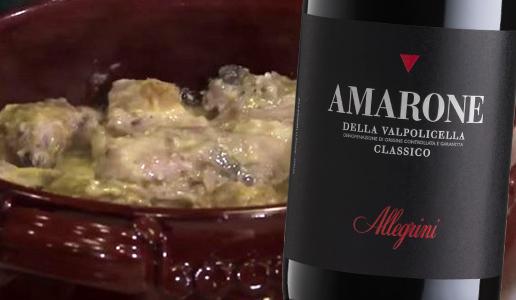 We pair this traditional Eastertime recipe from Lazio region with the Amarone della Valpolicella Classico 2016 by Allegrini winery.
Ingredients for 6 people:
1.2kg lamb (leg, should or chops) cut into pieces of around 50g each, a 100g slice of prosciutto, 1 small onion, 2 (5) tablespoons extra-virgin olive oil, ½ glass dry white wine, 3 egg yolks, 1 juicy lemon, a little flour, parsley, marjoram, salt and pepper and 1 glass meat broth.
Directions:
Dice the onion and cut the prosciutto into many small cubes.
Heat the oil in a pan and sauté the onions and ham. Before the onions begins to take on color, add in the pieces of lamb and brown them uniformly at a medium heat, turning them frequently.
Season with salt and pepper and, once they are browned, sift over a half-tablespoon of flour to thicken the sauce. Keep turning and cooking the meat for a few more minutes and, when the flour begins to darken, add in the white wine. Once the wine has burned off add the glass of hot meat broth.
Cover the pan and cook for around three-quarters of an hour, until the meat is tender and the gravy is creamy but liquid.
In the meantime, put the egg yolks in a bowl with a pinch of salt, one of marjoram and half a tablespoon of chopped parsley. Mix everything together and thin with the juice from the lemon.
Remove the pan from the heat, take out the meat and then energetically mix the eggs into the gravy. Thicken at a very low heat for a few minutes (it absolutely must not boil) until the gravy is creamy without being "sticky".
Put the lamb back into the pan, mix and serve immediately.
Wine to pair:
Amarone della Valpolicella Classico 2016 Allegrini
Ruby red color. Intense aromas of black pepper and chocolate, hints of eucalyptus and of ripe fruit. Juicy taste with notes of blueberries, tense finish. A persistent and powerful Amarone.
Production area: Valpolicella Classica, from vineyards located at an altitude from 180 to 280 meters a.s.l. (591-919 feet) with varied, but mostly clayey and chalky soils of volcanic origin.
Grape varieties: Corvina Veronese 45%, Corvinone 45%, Rondinella 5%, Oseleta 5%, dried. Training system for the old vines is Trentino pergola with about 3,000 vines/hectare; for the new vines simple Guyot system with 5,000 vines/hectare. Average age of the vines 36 years old.
Harvest: Hand harvest of selected bunches carried out in late September.
Appassimento (drying process): Naturally dried for 3-4 months in the drying facility (fruttaio) where the grapes lose 40-45% of their original weight.
Vinification: De-stemmed and soft-pressed in early January. Fermentation in stainless steel tanks at controlled temperature of 8-22°C (46-72°F) for about 25 days with daily periodic pumping over. Aging in new barriques for 18 months, mass for 7 months and aging in bottle for 14 months.
Features of the 2016 vintage: Vintage 2016 was characterized by generally positive climatic conditions, despite above-average rainfall in spring. Heavy rain in May meant that prompt and thorough preventative measures had to be undertaken to protect the vines, which successfully safeguarded their health. The second half of June gave way to fine weather that continued throughout the summer months, with temperatures not exceeding 35°C (95°F). The marked differences in day-night temperatures recorded in particular during veraison, combined with the considerable water reserves accumulated during spring, resulted in an increase in sugar concentration, helped to maintain acidity and facilitated the development of the specific flavor characteristics of each varietal. Finally, a 'slow' harvest in ideal weather conditions allowed the grapes to achieve perfect ripening at a gradual pace. Vintage 2016 promises to be one of the best years ever, outstanding for its great balance and elegance.
Alcohol content: 15.84% Vol.
Serving temperature: 16-18°C.
Suggested food pairings: Traditionally enjoyed with game, roasted and grilled meats, casseroles and well-matured cheeses. Excellent with hearty dishes. Its distinctive flavor compliments exotic sweet and sour cuisine and is therefore also perfect with Asian and middle-eastern dishes.
Related Products