Jumbo shrimp tempura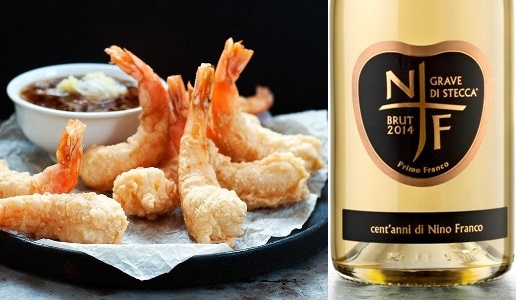 Tempura is distinguished by its light and crispy breading. Shrimp tempura pairs excellently with a Grave di Stecca Nino Franco
Tempura is a Japanese way of frying food. Its secret involves mixing together white wheat flour with rice flour and sparkling water that makes it frothier. It also has to be very cold and should be put in the freezer or on ice for over ten minutes before use. The temperature difference between the cold breading and the hot oil "seals" the shrimp from the inside allowing the meat to be more tender and the outside crispy.
Ingredients for 4 people:
16 jumbo shrimp, 160ml cold sparkling water, 70g white wheat flour, 70g rice flour, peanut oil as needed for frying, salt and ice cubes.
Directions:
Keep the shrimp in the refrigerator up until they are to be cooked.
Wash and clean the shrimp, remove the spine and shell but leave the tip of the tail intact. Cut the shrimp lengthwise to avoid it curling during frying.
Sift and mix the two flours in a bowl and then slowly add in the ice-cold sparkling water, using a whisk to stir it continually to avoid creating any lumps.
Heat the peanut oil in a pan with high sides to 180°C.
Add some ice cubes to the breading to keep it cold.
Submerge the shrimp completely into the breading and then fry them until they are a golden-yellow color. Remove the shrimp and dry them on absorbent paper.
Salt just before serving with your choice of sauces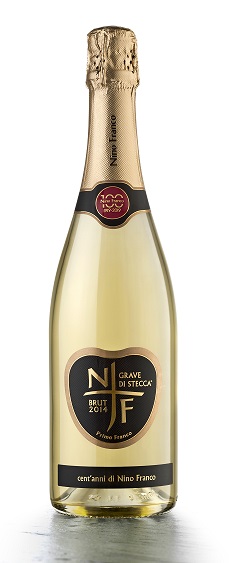 Wine to pair:
(by Stefania Vinciguerra)
Grave di Stecca 2014 Nino Franco
Brilliant pale straw colored with fine and continuous perlage. Complex nose, with flint notes, scents of ripe fruit, aromatic herbs, floral and citrus notes. On the palate dry but creamy, tense and sensual, crunchy and persistent.
Production area: an ancient origin vineyard, named "Grave di Stecca", a clos on the slopes of Prealpi, just near the town Valdobbiadene center. The vineyard, exposed to south and partly screened by a huge park, enjoys a particular micro-climate.
Grape variety: 100% Glera.
Wine making technique: obtained by the second fermentation in "cuve close", charmat method.
Type: Brut (7 g/l).
Serving Temperature: 6-8° C.
Suggested Food Pairing: drinkable throughout the meal, it goes very well with ham, shellfish, fish and chips, shrimp and vegetable "tempura".
Related Products