Jumbo shrimp carpaccio with citrus sauce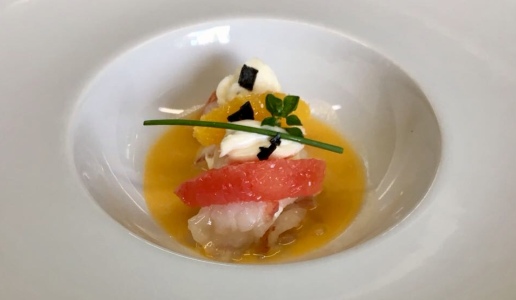 This recipe is from Chef Fabio Belcielo of the Podernovo restaurant at the Castello delle Regine resort estate. We pair it with the very new Alto Adige Sauvignon The Wine Collection 2015 Cantina San Michele Appiano/Kellerei St. Michael Eppan.
Ingredients for 4 people:
80g peeled jumbo shrimp, 1 pink grapefruit, 1 orange, salt, extra-virgin olive oil, black salt (kala namak) shavings, chives and mint.
Directions:
Cut the shrimp into pieces, place them between two sheets of plastic wrap and flatten them delicately with a meat tenderizer.
Peel the skins off a slice of orange and one of pink grapefruit and keep them to the side. Squeeze the juice out of the remaining fruits.
Use a blender to whip up the juice with a trickle of EVOO and a little salt.
Spread the sauce out on a flat plate and place the shrimp carpaccio on top. Garnish with the peeled citrus slices and black salt and decorate with the chives and mint.

Wine to pair:
(edited by Stefania Vinciguerra)
Alto Adige Sauvignon The Wine Collection 2015 San Michele Appiano/St. Michael Eppan
The 2015 Wine Collection Sauvignon is the first wine from this new collection. TWC comprises the best expression of a range of varietal wines, from a highly limited production. The wine that opens this collection can only be a Sauvignon, because this is the grape variety that is, without doubt, most closely associated with Hans Terzer. Bright straw yellow color. Varied and elegant aromas are the preview of a simply sumptuous taste for elegance and richness. Vibrant progression with a savory and aristocratic finish.
Production Area: the grapes come exclusively from selected plots in the Appiano Monte vineyard
(Eppan Berg) with limestone gravel soil.
Grape Variety: Sauvignon, Guyot trained, from 25-35 years old vineyards with a yield of 40 hl/ha.
Harvest 2015: early to end September
Wine-making: Three days maceration, gentle pressing. After fermentation, 12 months maturation in large oak barrels and a further 12 months in steel tanks.
Alcoholic Content: 14,5% vol.
Serving Temperature: 8-10° C.
Suggested Food Pairing: Strong fish, asparagus dishes, white meat.
Storage/Potential: 10 years or more
THIS RECIPE IS OFFERED BY SAN MICHELE APPIANO/ST. MICHAEL EPPAN
Related Products