Gurnard fillets with sage and Roman-style artichokes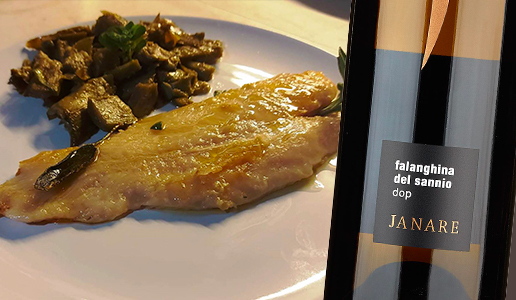 Let's take advantage of the last Roman artichokes of the season to enjoy them with a Falanghina del Sannio Janare 2019 La Guardiense.
Ingredients for 4 people:
4 gurnard fillets about 200g each, 6 Roman artichokes, ½ glass water, ½ glass dry white wine, fresh sage leaves (dried if fresh are not available), 2 wild mint sprigs, 1 garlic clove, extra-virgin olive oil and salt as needed.
Directions:
Clean the artichokes (or buy them prepared by your green grocers) and cut them into pieces. Place them in a proper-sized pan with 2 tablespoons of EVOO and the garlic clove cut in half.
Sauté for a couple of minutes and then add the water, wine and wild mint leaves and salt to taste. Cover and stew until the artichokes are soft.
Put two tablespoons of EVOO into a broad pan and cook the gurnard fillets with 20 sage leaves. Salt to taste and make sure the sage leaves do no burn.
Serve the fish fillets on warmed plates together with three tablespoons of Roman-style artichokes. Season each fillet with a tablespoon of EVOO and garnish with sage leaves and a sprig of wild mint.

Wine to pari:
(edited by Stefania Vinciguerra)
Falanghina del Sannio Janare 2019 La Guardiense
Intense greenish yellow color. Surprisingly complex aromas of cedar, Sorrento lemon, hints of hydrocarbon and aromatic herbs. Savory taste, fresh, tense and neat, good body, agile and very pleasant. Enjoyable drinkability and good persistence in the finish.
Production area: Sannio Beneventano, a very particular area of the historical land of the Samnites. A land of undulating hills and plains, with a particular micro-climate that protects it from the excesses of either heat or cold. In fact it is well protected both by the Matese mountains that separates it from the Molise region, and by the Taburno massif that cuts it off from the coast of Naples.
Grape varieties: Falanghina grape 100%.
Vinification: in stainless steel tanks, where it remains on its lees for 5 months. Followed by a short aging in the bottle.
Alcohol content: 13.6% vol.
Serving temperature: 8-10 °C.
Suggested food pairings: Light appetizers, gnocchi homemade pasta with tomato sauce, pasta with zucchini, rise, fish or meat carpaccio, caprese with buffalo mozzarella, shellfish, seafood dishes. Very good with Parmigiana zucchini and perfect on creamy cheeses.
Curiosity: In Sannio janare are witches, mythical figures of civilization and peasant culture, which allude to the strong and indomitable character of the women of this land, capable of casting curses and fatal spells against their enemies. Legend has it that during the day they concealed their nature while at night, after having sprinkled themselves with a magical ointment, they took flight on a classic broom. La Guardiense wanted to pay homage and not to lose the memory of this ancient and suggestive Sanniti popular tradition.
Related Products