Gorgonzola, pear and walnut muffins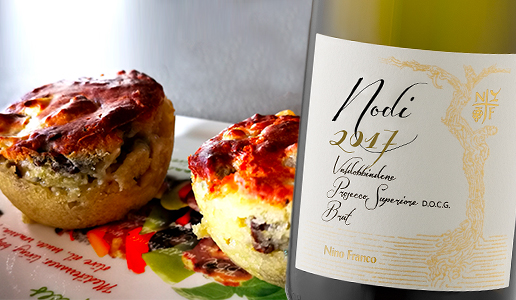 A mix between an amuse bouche and an appetizer, these muffins pair perfectly with a Nodi 2017 Valdobbiadene Prosecco Superiore Brut Nino Franco.
Ingredients for 6 muffins:
130g of white flour, 30g Parmigiano, ½ packet of instant yeast, 100ml milk, 1 egg, 30g butter, 1 teaspoon salt, 100g gorgonzola dolce, 1 pear and 20 walnut kernels.
Directions:
In a bowl mix together the egg yolk, milk, butter and salt. In another bowl mix together the flour and grated parmigiano along with the yeast. Combine and two bowls and mix well.
Add in the pear, which has been peeled and cut into small cubes, and the gorgonzola that has been broken into small pieces. Crush the walnuts and add them in and mix everything together well into a uniform dough.
Whip the egg white until it is firm and add it to the dough from the bottom up to ensure it does not break up.
Butter and flour six muffin molds and fill each with the dough mixture.
Bake for 25 minutes in an oven pre-heated to 180°C.

Wine to pair:
(edited by Stefania Vinciguerra)
Nodi 2017 Valdobbiadene Prosecco Superiore Nino Franco
Light straw yellow with fine and persistent bubbles. Floral bouquet, with wisteria and rose aromas, fruity notes of pear, gooseberry and lime. Intense and smooth to the palate, with hints of lime, peach and stone fruit. The complexity is supported by good acidity with a pleasant savory hint in the finish.
Production area: the DOCG Valdobbiadene hills, Col del Vent single vineyard. Col del Vent is a plateau that descends and becomes "riva", uniform in age of the vines.
Grapes variety: 100% Glera.
Wine making: Charmat Method.
Type: Brut (6g/l)
Alcoholic content: 11,5% vol.
Serving temperature: 6-8°C.
Related Products