Glazed pork shanks with white polenta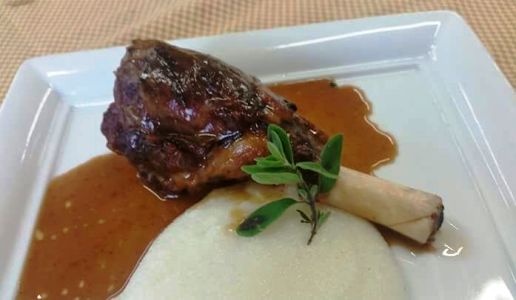 Winter is around the corner so here is a dish for the cold weather to be enjoyed with a lovely Lambrusco Grasparossa di Castelvetro Vigneto Cialdini Cleto Chiarli
Ingredients for 4 people:
4 pork shanks 1/2kg each, 4 rosemary springs, 2 tablespoons extra-virgin olive oil, salt, pepper and 1 tablespoon chestnut honey.
For the glaze: 1kg pork bone, 2 pig's trotters, 2l red wine, 2 carrots, 2 onions, 1 celery stick, 2 laurel leaves, 2 garlic cloves and ice as needed to cover.
For the polenta: 250g white corn flour, 1l water and salt as needed.
Directions:
Rub the shanks with EVOO, salt and pepper and then air-seal in plastic to cook in water in a thermostatic oven at 72° for seven hours. They can also be stewed at a low heat in a rosemary broth with salt and pepper until the meat begins to come off the bone. Let the shanks cool in the broth and then rub them EVOO, salt and pepper, brush with honey and bake in the oven.
For the glaze: Clean the bone and trotters well and brown (caramelize) them in a pan at a high heat for around 10 minutes.
Add in the vegetables that have been cut into small pieces and pour over the wine. Raise the heat to reduce the wine until it is level with the bones (around 10 minutes). Cover with ice and simmer for around 4 hours. Filter when done.
Remove the shanks from the plastic and pour the juice into the glaze. Brush the shanks with honey and bake for around 15 minutes in an oven pre-heated to 200°C.
For the polenta: Mix the corn flour slowly into boiling water and cook for 30-40 minutes stirring continuously with a whip or spoon. This can be done beforehand.
Serve the pork shanks basted with the glaze on heated plates with a ladle of polenta.

Wine to pair
(edited by di Stefania Vinciguerra)
Lambrusco Grasparossa di Castelvetro Vigneto Cialdini Cleto Chiarli
Deep and intense color with fine and lively froth. Intense, but never excessive scents to the nose. To the palate it combines roundness and austerity, with a dry and vonous taste and good body.
Production area: Chiarli family owns three agricultural estates, located in the most important areas for classical Doc Modena wines, more then 100 hectares of vineyards.
Grape varieties: Lambrusco Grasparossa di Castelvetro.
Wine making: Traditional pressing with a 36-hour long maceration at 10-12° C. Drawing off and refrigeration. Slow fermentation. Pris de Mousse in 'cuve close'.
Alcoholic content: 11% vol.
Serving temperature: 14-16° C.
Suggested food pairing: Pasta, charcuterie and, in general, traditional dishes from Emilia..
Related Products