Frico with potatoes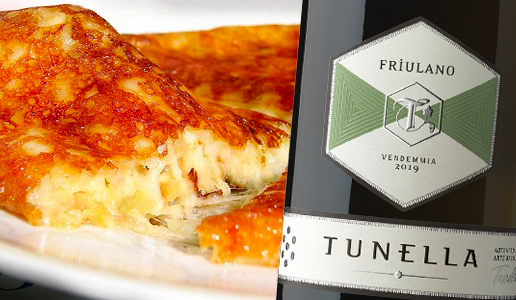 A typical Friuli dish that we pair with a very classic local wine: Friulano 2019 by Tunella winery.
Ingredients for 4 people:
300g semi-aged Montasio cheese, 2 medium-sized potatoes, 1 onion, 100g smoked bacon, 30g butter, salt and pepper.
Directions:
Peel the potatoes, cut them into small pieces and then wash and dry.
Thinly slice the onion and dice the bacon into very small cubes.
Heat the butter in a pan and gently sauté the onion and bacon. Add in the potatoes when the onions begin to take on color, season with salt and pepper and pour in a glass of hot water.
Cover and simmer for around 20 minutes until the potatoes are tender and almost dry.
Add in the cheese that has been cut thinly then mix everything together and transfer into a non-stick pan.
Initially, maintain the heat high, keep mixing then turn down the heat as the bottom becomes crispy and has a golden-brown color.
Using the pan top, flip the frico over and brown the other side until it, too, becomes crispy

Wine to pair:
(edited by Stefania Vinciguerra)
Friulano 2019 Tunella
Straw yellow color with greenish reflections. Floral and fruity to the nose, with a typical note of bitter almond, pear, wild flowers and acacia. Smooth and velvety to the palate, moderately acid, dry and well structured. The finish, of good persistence, is characterised by a scent of bitter almond.
Production Area: Oriental Friuli Hills. Vineyards are on marl and sandstone soils of Eocene origin better known as "ponca".
Grape variety: 100% Friulano (former Tocai) with traditional Friuli short single inverted training system and a planting density of 4,500 vines/ha. In the vineyard is practiced the integrated pest control with low environmental impact.
Harvest: Manual harvesting in the second week of September, when the grapes have reached the right degree of ripeness.
Vinification: The grapes are destemmed and gently pressed. Then a fermentation starter, previously prepared from the selected best grapes of the same variety, is added to the resulting clear, whole must. The must then ferments slowly in stainless steel vats at a precisely controlled temperature (16° C) for approximately 30 to 40 days. The maturation continues in stainless steel vats, during which time also a lengthy series of batonnage processes is carried out at set intervals to produce a wellrounded and full-bodied wine, with a delicate bouquet. After a long sur lie aging process, bottling is deferred the month of February.
Alcohol content: 13% vol.
Serving temperature: 8-10°C.
Suggested food pairings: light starters, cold cuts, dry pasta dishes, fishes and white meats. Excellent with San Daniele ham.
Related Products