Freselle with tomatoes and lemon zest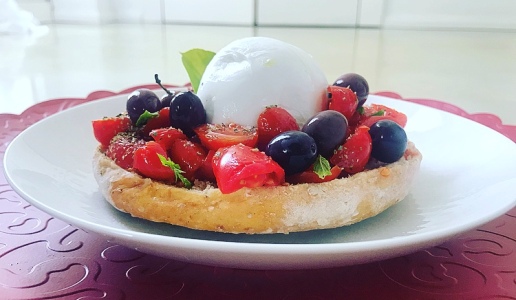 Summer is not summer without tomatoes on bread (in this case freselle). We pair this sparklingly with the new Lambrusco di Modena Secco Phermento Medici Ermete
This version uses freselle (the hard, donut-shaped Puglia bread that is baked twice), buffalo mozzarella and lemon zest to create a rich and fresh dish to serve as a starter, a second course or even and a one-dish meal on a hot summer's day.
Ingredients for 4 people:
4 durum wheat freselle, 200g small tomatoes, capers as desired, basil, salt, oregano, extra-virgin olive oil, a handful of black Gaeta olives, 4 Campania PDO buffalo mozzarellas of about 100g each, a lemon peel and garlic as desired.
Directions:
Cut the tomatoes into pieces and put them in a bowl with some capers, the olives, the chopped garlic, basil, salt and EVOO. Mix everything together and then let it sit in the refrigerator for about 30 minutes.
Soak the freselle for a few seconds under running water but without letting them get soggy and then place them on a serving dish. Put a mozzarella in the hole of each fresella and then spread the tomatoes on top.
Complete with a trickle of EVOO and some grated lemon peel on top.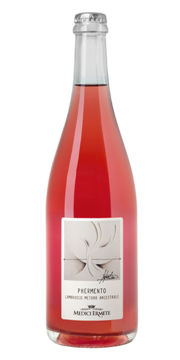 Wine to pair:
(edited by Stefania Vinciguerra)
Phermento Lambrusco di Modena Secco 2016 Ermete Medici
Phermento, the newest member of Medici's production, has a pink deep color with fine perlage and a fine, rich and persistent froth. Fruity bouquet with raspberry and red fruits. Dry, fruity and vibrant taste.
Production Area: Soliera in the province of Modena, on sandy soils.
Grape Variety: Lambrusco di Sorbara, trained with spurred cordon with a maximum production of 9 tons per hectare.
Wine-making: "ancestral" method, that is, the alcoholic fermentation and the second fermentation take place in the bottle, with the yeasts inside, which settle on the bottom of the bottle once the fermentation is over.
Alcoholic Content: 12,5% vol.
Serving Temperature: 8-10°C.
Suggested Food Pairing: dishes like charcuteries, vegetal or fish tempura.
Curiosity: the label has been specially designed by the Reggio painter Eugenio Paterlini.
Da bersi giovane con un massimo di durata di 1 o 2 anni.
Related Products