Florentine stewed rump steak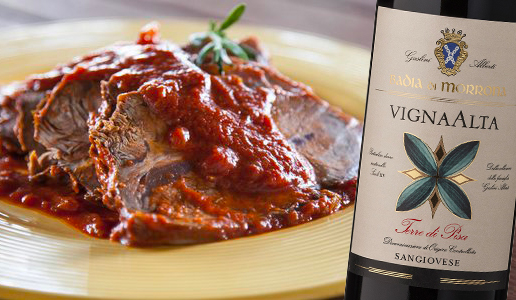 A traditional Tuscan dish we pair with a VignaAlta Terre di Pisa Sangiovese 2017 by Badia di Morrona.
Ingredients for 6 people:
1.5kg well-hung beef rump, 2 large red onions, 3 celery sticks, 5 carrots, 3 garlic cloves, 2 glasses Sangiovese (best if the wine to be paired), 500g peeled tomatoes, 6 tablespoons extra-virgin olive oil, salt and pepper.
Directions:
Peel two carrots of more or less the same thickness and cut off the tips.
Using a long knife slice the meat lengthwise then open it and insert the two carrots.
Season the meat with salt and abundant pepper and rub them in for flavor before tying the meat with kitchen twine.
Rinse and clean the celery sticks, carrots, onions and garlic and then chop them up roughly.
Heat the oil in a pan with a heavy bottom, add in the vegetables and meat and brown the meat at a high heat for around half an hour. Be sure to stir the vegetables frequently while doing this and turn the meat to ensure it browns equally in all sides.
Add in the wine and when it has evaporated add the tomatoes that have been cut up. Cover, lower the heat and cook the stew for at least two and a half hours, adding hot water when necessary to keep the sauce from drying. Once done, the meat should be very tender so keep cooking it if it cannot be easily pierced with a toothpick.
When fully cooked, remove the meat, untie it and let it sit, wrapped in aluminum foil, so it will be easy to slice when cool.
Pass the sauce through a food mill, salt to taste and heat up.
Cut the meat into thick slices, cover them with the sauce and serve.

Wine to pair:
VignaAlta Terre di Pisa Sangiovese 2017 Badia di Morrona
The finest expression of Sangiovese at the estate, fruit of a rigorous selection of the grapes of the best vineyard on the property, which has given it its name. Ruby red color, on the nose sweet spices and red fruit, such as cherries and wild cherries. Structured and balanced, the palate is full-bodied with dense tannins, well amalgamated and sustained.
Production area: Terricciola, in the Pisa hills.
Grape variety: 100% Sangiovese.
Wine making: only the best grapes are vinified for this wine. It ages partly in 2500 liters (650 gallons) French oak casks and a small part in 250 liters (60 gallons) barrels already used once.
Alcoholic content: 14% vol.
Serving temperature: 16-18°C
Suggested food pairing: red meat, game and wild meat.
THIS RECIPE IS OFFERED BY BADIA DI MORRONA
Related Products