Fish paella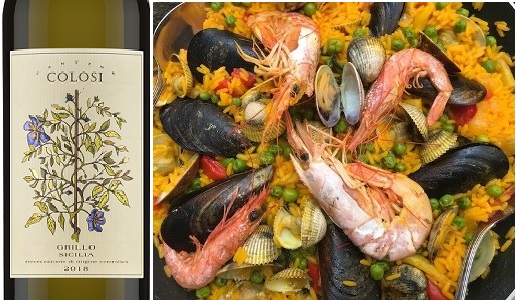 Paella is a Spanish dish that brings some sun to the table. What better to pair it with a Mediterranean Grillo Sicilia DOC 2018 Cantine Colosi?
Ours is one of many recipes for paella, which in this case calls for using vegetables and fresh fish to create an incredible combination of flavors.
Ingredients for 8 people:
400g bomba rice (or vialone nano rice), 500g mussels, 500g clams, 500g shrimp, 1 pepper, 100g peas, paprika as desired, 1 packet saffron, 2 tomatoes, 1 lemon, 1 garlic clove, 100ml extra-virgin olive oil, a half glass of white wine and chili pepper as desired.
Directions:
Sauté the garlic in a trickle of EVOO in a high (6cm), steel pan with double handles. Remove the garlic and add in the pepper and tomatoes that have been cut into small pieces, the clams and mussels and pour over the white wine. Cover and cook for two minutes.
Add in the shrimp and peas and fill the pan with water and bring to a boil.
Add the rice, saffron, paprika and salt and cook for around 15 minutes.
Let the paella sit for about 5 minutes before serving.
Bring the paella in the pan it was made in, a Valencia tradition, and add some lemon zest and hot chili pepper as desired.

Wine to pair:
(edited by Stefania Vinciguerra)
Grillo Sicilia Doc 2018 Cantine Colosi
Deep straw yellow color. To the nose emerges a vanilla-flavoured aroma due to the maturation in acacia wood that can be found also in the pleasant round taste.
Production area: Marsala (TP), sandy-clay groung.
Grape variety: Grillo 100%, "alberello" (goblet) and espalier trained.
Harvest: in the second half of September.
Wine-making: solf press of the grapes, fermentation and ageing in stainless steel for 3 mounths. Maturation 4 mounths in Acacia barrels.
Alcoholic content: 13% vol.
Serving temperature: 10-12°C.
Suggested food pairing: side dishes and vegetables, Timballi and light fried food.
Related Products