Fettuccine noodles with a pork white ragù sauce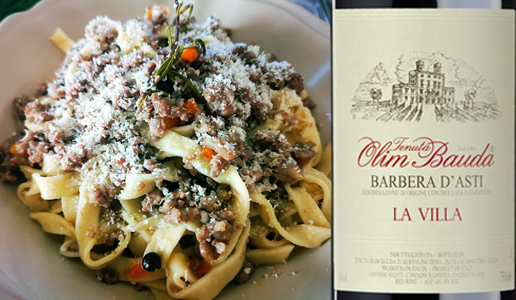 The debate over whether a ragù must have tomato will never end. There are an infinite variety of recipes for this sauce including this white sauce made with pork that we pair with a Barbera d'Asti DOCG La Villa Olim Bauda.
Ingredients for 4 people:
For the fettuccine: 400g flour and 4 eggs.
For the ragù: 300g ground pork, 1 celery stick, 1 carrot, 1 onion, 1 bay leaf, 1 rosemary spring, juniper berries as desired, a glass of good Italian white wine and, as desired, salt, olive oil and Parmigiano Reggiano.
Directions:
Prepare the pasta by energetically mixing together the flour and eggs until it becomes a consistent and elastic dough. Make a ball out of the dough, wrap it in plastic and let it sit for 30 minutes. Roll the dough into a flat sheet, roll the sheet up and slice off the fettucine with a width of around 5mm.
Finely chop the celery, carrot and onion and sauté them at a medium heat. Increase the heat and add in the ground pork and brown the meat evenly. Pour over the white wine and let it evaporate. Lower the heat to a minimum and add in the bay leaf, rosemary and juniper berries. Cover the pan and continue cooking at a low heat for another 30 minutes, stirring occasionally.
Boil the noodles in abundant salted water and drain as soon as they fettuccine begin to float, about a minute after the water returns to a boil. Mix the pasta with the sauce and serve out portions topped with a generous amount Parmigiano.

Wine to pair:
(edited by Stefania Vinciguerra)
Barbera d'Asti Docg La Villa 2019 Olim Bauda
A beautiful bright ruby red prelude to vinous and intensely fruity scents, with cherry and berries and some light floral hints. Extremely pleasing to the palate, it is fresh and full-bodied, agile and with a pleasant persistence.
Production area: the vineyards are located in 5 different municipalities in the heart of Asti, in the DOCG area of Barbera d'Asti.
Grape variety: 100% Barbera. The yield per hectare rarely exceeds 6 tonnes, but the annual climatic differences can influence this parameter considerably.
Harvest: the grapes are usually selected, entirely by hand, at the end of September or in the first week of October.
Wine making: the freshly harvested grapes are crushed the same evening and transferred into stainless steel tanks for alcoholic fermentation. The fermentation temperature is assisted at all times and never exceeds 28°C. The refinement of the wine continues in these steel tanks until bottling and then ages in the bottle for several months.
Alcohol content: 14% vol.
Serving temperature: 14-16°C.
Suggested pairings: try it with a salami sandwich, a pizza, a nice plate of tajarin with meat sauce or Piedmontese mixed boiled meats. Perfect for a nice barbecue with friends.
Related Products