Curly endives on a chickpea purée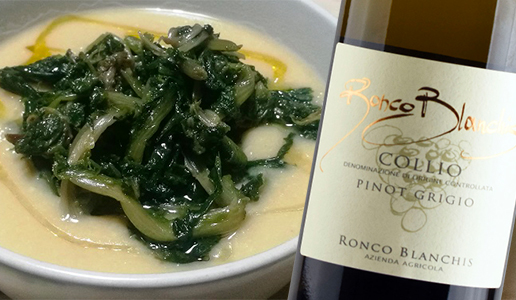 A peasant dish "ennobled" by pairing it with a Collio Pinot Grigio 2018 Ronco Blanchis.
A great classic in Puglia cuisine, "feve e cecoreje", which I love so much I've made it in every way possible, using various types of legumes and leaf vegetables. Quick, easy and flavorful, it will please everyone, even those seeking healthy food.
Ingredients for 4 people:
500g dried chickpeas (or two cans of drained chickpeas if you're strapped for time), 1kg curly endives, 1 golden onion, 1 celery stick, 1 carrot stick, a white garlic clove, 4 tablespoons extra-virgin olive oil and salt as needed.
Directions:
Soak the chickpeas in cold water overnight.
Boil the chickpeas the next day in salted water and add in the cleaned onion, garlic clove, celery and carrot and cook until they are done (around 40 minutes).
Wash the endives and boil them in salted water. Drain and keep to the side.
Purée the chickpeas with a mixer after removing the garlic, carrot and celery. Trickle in the EVOO and add enough water to create a purée that is not too thin.
Season the boiled endives with EVOO and salt. Place an abundant ladle of chickpea purée in each bowl and the add a nest of endives on top. Trickle some EVOO over everything.

Wine to pair:
(edited by Stefania Vinciguerra)
Collio Pinot Grigio 2018 Ronco Blanchis
Known worldwide as one of the classic Italian grape varieties, the Pinot Grigio finds a perfect terroir in the Collio appellation area. Straw yellow color with delicate copper hues. To the nose it has the typical, fine notes of this variety: scents of flint stone and pear. To the palate it is full and and has a fresh and long lasting aftertaste.
Production Area: the Blanchis hill (ronco) with clay and eocenic marl soil.
Grape Variety: 100% Pinot Grigio, growth system Guyot with 4830 vines per hectare.
Wine-making: harvest from 1st to 7th September with a yield of 9 tons per hectare. Vinification in stainless steel tanks with soft crushing of the whole grapes. Ageing 6 months in steel vats.
Alcoholic Content: 13,5% vol.
Serving Temperature: 10-12°C.
Suggested Food Pairing: starters and entrees in general soups, eggs, seafood.
Related Products