Chestnut custard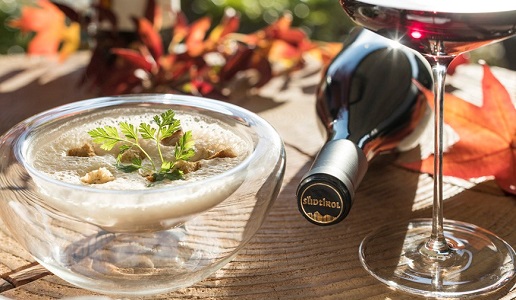 Unusual entrée with chestnuts made to exalt the characteristics of Alto Adige Meranese Doc Fürst 2016 Cantine Merano / Kellerei Meran.
Ingredients for 4 people:
100g onions, 100g leeks, 50g butter, 100ml white wine, 1l vegetable broth, 100g celery root, 300g shelled chestnuts, 200g cream and some paarlbrot rye bread.
Directions:
Chop the onions and leeks and brown them in butter before adding in the chestnuts and celery root cut into cubes. Pour in the white wine, the vegetable broth and cream.
Boil for 30 minutes then add salt and pepper and blend in a mixer before filtering through a sieve.
Cut the bread into small cubes and fry in a pan. Place the croutons on the chestnut pudding and serve immediately.

Wine to pair:
Alto Adige Meranese Doc Fürst 2016 Cantine Merano / Kellerei Meran
The color is a bright ruby-red. To the nose notes of violets and almonds that come back to the palate combined with subtle notes of oak and clear hints of fine-grained tannins. Juicy and rich mouthfeel.
Production area: Obermais (part of the town Meran) and the walk "Tappeiner Promenade". Vineyards are located 300-400 meters a.s.l. on light and permeable morainic soils.
Grape variety: 100 % Meraner Vernatsch, Guyot trained, with a yield of 45 hl/ha.
Winemaking: Temperature controlled alcoholic fermentation in small stainless steel tanks. Afterwards controlled malolactic fermentation and storage for a year in little wooden barrels (tonneau) of 5 hectoliters and little stainless steel tanks.
Shelf life: 5 years.
Serving temperature: 12-14°C.
Suggested Food Pairings: Recommended as an aperitif, with starters or with light main dishes.
Opening picture: Copyright Cantina Merano/Helmuth Rier
Related Products