Carnival Chiacchiere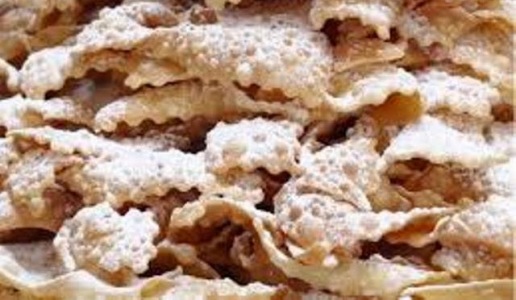 Fried and light, Chiacchiere are made with simple ingredients that vary depending on personal taste and local tradition. They have different names in different regions (frappe, sfrappole, cenci, bugie, galani, grostoli and so on) and can be fried or (more so in modern times) baked and are almost always covered in confectioner's sugar. In southern Italy they are accompanied by sanguinaccio, a sauce made with pigs' blood and dark chocolate. No matter what the name or which ingredients are used, Chiacchiere remain the typical pastry for Carnival.
Carnival has its roots in ancient pagan rites that celebrated the end of winter and the awakening of spring, with the hope of favoring a fertile and generous growing season. During its celebration everything was permitted including excesses in eating, drinking and pleasure in every sense, behavior that would be unthinkable in other periods of the year.
With the spread of Christianity, these unbridled celebrations were toned down and vices and virtues were represented by masks used in open-air performances or in theatres. Pucinella (Punch), Pantalone (Pantaloon), Arlecchino (Harlequin) and Colombina (Columbina) remain in Carnival tradition today to entertain us and even make us think twice. Today Carnival remains a period of carefreeness ahead of Lent, the 40-day period when Christians are not supposed to eat meat (carnem levare hence the name).
The star of Carnival is undoubted this fried pastry in all its versions and local interpretations and anything can be battered and fired in fat be it lard, butter or olive oil. "Everything is better fried, even air", an old saying goes.
Ingredients for a full tray:
500g white flour, 2 eggs, 1 demitasse cup of extra-virgin olive oil, 1 tablespoon sugar, white wines as needed, 1 pinch of salt, vegetable oil (for frying) and confectioner's sugar.
Directions:
Create a mound of flour on a pasty board, crack open the eggs at the top adding the EVVO, sugar and a pinch of salt. Mash everything together with a fork and then slowly add the wine while continuing to mix the flour and then create a dough using your hands. In the end the dough should be homogenous and smooth like that for making fresh pasta. Wrap the dough in plastic and let it sit.
Divide the dough into pieces and use a pasta machine or rolling pin to flatten each piece until it is as subtle as a noodle.
Using a serrated pasta wheel, cut the dough into irregular shapes creating, if one wishes, knots as well as the usual strips.
Heat the frying oil in a large pan until it is very hot and then fry the Chiacchiere, turning them over until they are uniformly golden-brown. Remove them using a skimmer and place them on a tray covered in paper towels to absorb any excess oil while continuing to fry the other chiacchiere.
When they are still warm, transfer the Chiacchiere on to a platter and powder them with confectioner's sugar.
Wine to pair:
Moscato d'Asti Docg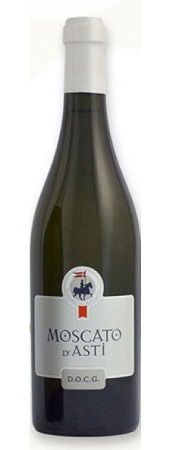 Moscato d'Asti Docg - together with the sparkling version Asti Dolce - is the most famous Moscato in Italy and one of the most characteristic dessert wine of Piedmont's winemaking culture. This thanks to an intense aromatic component that harmonizes with its sweetness, along with a low alcohol content: all qualities that make it unique. Sweet but not cloying, it has an inimitable aroma and a delicate but intense taste, reminiscent of wisteria and linden, peach and apricot, with notes of sage, lemon and orange blossom. In addition, although Moscato d'Asti is not a spumante, it still boasts a lively sparkle that makes it inimitable.
In terms of production, it differs from Asti Dolce spumante above all in the fermentation process, which is halted when the alcohol content reaches about 5% by volume.
Production area: hill vineyards of 52 townships in the provinces of Asti, Alessandria and Cuneo. Three specific areas have been identified as peculiar and can be outlined in label: Canelli, Santa Vittoria d'Alba and Strevi. Moscato bianco vineyards cover a surface area of about 9,700 hectares, divided amongst more than 4,000 wineries and producers.
Grape variety: Moscato Bianco, with a max. yield of 10 tons per hectare.
Minimum potential alcohol content: 11%, minimum actual alcohol content 4.5%.
Suggested food pairing: delicate desserts, creamy dessterts, dry pasty.