Carboncelli half-moon pasta with a jumbo shrimp and porcini mushroom filling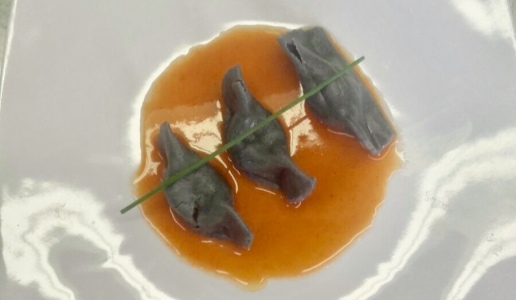 A recipe from Chef Fabio Belcielo of the Podernovo Restaurant at Castello delle Regine. We pair this with a Langhe Chardonnay Morino from Batasiolo.
Ingredients for 6 people:
For the pasta: 4 eggs, 300g white flour, 100g durum wheat semolina and 10g vegetable charcoal.
For the filling: 700g jumbo shrimp (mazzancolle), 200g cleaned porcini mushrooms, 1 garlic clove, 1 teaspoon chopped onion, parsley, extra-virgin olive oil and salt as needed.
For the sauce: 1 tablespoon brandy and 1 glass of white wine.
Directions:
Mix the pasta ingredients together to make an elastic dough and then divided it into two portions and let them sit for 20 minutes.
Peel and clean the shrimp and save the heads and shells for the sauce.
Sauté the onion in EVOO, add in the peeled shrimp and a tablespoon of parsley, cover and cook for 3 minutes.
Sauté the garlic in EVOO, add in the porcini mushrooms that have been cut into cubes and a tablespoon of parsley, cover and cook for 5 minutes.
Mince and mix together all the ingredients making sure it is not to liquid.
Thinly roll out the dough and cut it into discs about 5cm in diameter (a glass can be used). Put some filling in the middle of each disc and then fold over to make a half moon and seal each pressing with your finger.
Sauté the onion with the heads and shells of the shrimp, douse with the brandy and white wine and cook for 15 minutes. Squeeze the shrimp heads to extracts the juice them remove them together with the shells and add a trickle of EVOO to the sauce.
Boil the carboncelli and remove them when they float and then serve with the sauce.

Wine to pair
Langhe Chardonnay Morino Batasiolo
Intense straw-yellow color, limpid and brilliant. Very rich bouquet with suggestions of tropical fruit, citrus, grapefruit, honey and vanilla. In the mouth it is balanced, wide-ranging, dry with a breath of fan-shaped aroma perceptible to the nose.
Production Area: Morino Vineyard in La Morra, in the Langhe DOC area.
Grape variety: Chardonnay.
Wine-making: manual harvest at the beginning of September. Removal from stalks, cold maceration for 24-48 hours of pressing and fermentation in French oak barrels. The wine rests on yeast in French oak barrels for a period of around eight months with periodic bâtonnage.
Serving Temperature: 8°C.
Suggested Food Pairing: because of its structure, in addition to classic combinations with antipasto, seafood main courses and recipes with white meat and fish, it is an ideal complement for red meat tartare, matured prosciuttos, oysters and shellfish in general.
Related Products