Bucatini pasta pie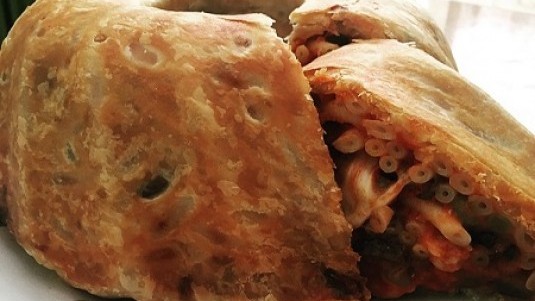 Sformato di bucatini (Bucatini pasta pie) is a very rich, flavorful dish that can easily be prepared ahead of time and is ideal as a single-dish meal. We suggest it be paired with a Boscobruno Pinto Nero 2015 Vallepicciola, a fine Mediterranean version.
Ingredients for 6 people:
400g bucatini pasta, 4 eggplants (which in winter can be substituted with eggplant and mushrooms), 400g mozzarella di bufala, 800g tomato purée, 300g finely cut sausage, 1 onion, extra-virgin olive oil (EVOO), ½ glass red wine, 4 tablespoons Parmigiano Reggiano, salt and pepper. One roll of dough.
Directions:
Cut the eggplants into small cubes, fry them and dry on paper towels.
Put three tablespoons of EVOO in a pan and brown the sausage, with the skins removed, and onion. Douse everything with the wine and after a few minutes add the tomato purée. Salt to taste and cook for around 45 minutes.
In the meantime, boil the bucatini in salted water until they are very al dente or undercooked. Drain the water and add in the tomato sauce with the sausage and the eggplant. Wait for pasta to cool then mix in the mozzarella that has been cut into cubes and the grated Parmigiano Reggiano.
Cover a pan with a hole at the center of around 22cm in diameter with the pasta dough. Poke holes in the dough then add in the pasta. Level and cover the pan and seal the edges.
Bake at 180°C for around 40 minute. Let the sformato cool and then turn it over on a serving dish and remove the mold.
Wine to pair:
Boscobruno Pinot Nero 2015 Toscana Igt Vallepicciola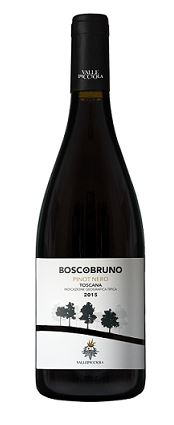 Intense garnet color. Surprisingly varietal nose of wild strawberry jam, cassis and sweet spicy hints. Saline palate, pleasant with subtle tannin and a velvety and elegant finish.
Production area: municipality of Castelnuovo Berardenga (SI), the Fabiani vineyard located on an area of 2.76 hectares facing south-west, at a height of 400 metres a.s.l.
Grape variety: Pinot Noir 100%
Wine-making: The harvest of the Pinot Noir took place in the third week of September. Upon arrival at the winery, the grapes were de-stemmed and the grapes were selected at the sorting table so as to allocate only those perfectly ripe for wine-making. After destemming and partial crushing, the grapes were put in stainless steel tanks. Maceration lasted about a week, for the colorants and tannins to be extracted. The alcoholic fermentation took place at a temperature of 26°C and was completed in French oak barrels where the wine also completed the malolactic fermentation. Refinement in oak barrels was continued for 8 months, after which, bottling took place. This was followed by a 10-month refinement period in bottle.
Alcoholic content: 14% vol.
Serving temperature: 16-18°C.