Breaded buffalo mozzarella tapas with green chili peppers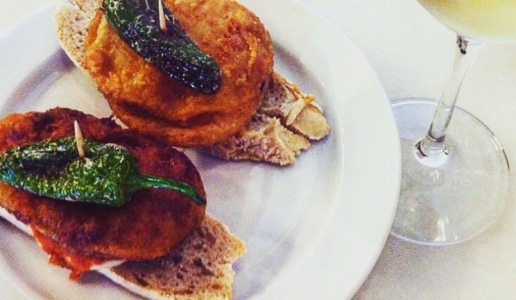 Tapas or pinchos are typical foods in Spanish cuisine that are served in small portions to accompany wine or beer. They are prepared using local, territorial products and the most common ones are made using cod, anchovies, squid, potatoes, octopus, cheese or ham. However, they can also be made using different vegetables.
The recipe we propose here is made using typical products of the Campania region like buffalo mozzarella and green pepperoncini (chili peppers) known locally as "peperoncini del fiume" (river chilies), an authentic regional delicacy. We suggest an unusual pairing with a classic Tuscan wine: Chianti DOC I Sodi del Paretaio 2016 Badia di Morrona, which was awarded the prize for best quality/price ratio in the 2018 edition of our Ultimate Guide to Italian Wine.
Ingredients for 4 people:
1 buffalo mozzarella without any excess water, 1 egg, breadcrumbs as needed, 2 tablespoons of flour, 4 slices of bread, fried green peperoncini as desired, extra-virgin olive oil, salt and pepper.
Directions:
Cut the mozzarella into slices some 2cm thick and then toss them in flour and after in the beaten egg that has been seasoned with salt and pepper. After that cover them in breadcrumbs.
Bread the slices a second time to ensure they are totally covered to avoid any of the mozzarella milk leaking out.
Fry the mozzarella slices in hot EVOO for about 2 minutes per side.
Place the fried mozzarella on slices of bread, garnish with the peppers and serve.
Wine to pair:
I Sodi del Paretaio 2016 Chianti Docg Badia di Morrona

This wine has been awarded for Best quality/price ratio in The Ultimate Guide di Italian Wine 2018.
It has a ruby red color. Well defined and expressive to the nose with intense red fruit, cherry and black cherry. Good tasty palate showing crunchy tannin and wonderful drinkability. Great fruity finish.
It is meant to be drunk young.
Production area: the hills not far from Pisa (Colline Pisane).
Grape varieties: Sangiovese 85%, Cabernet Sauvignon, Merlot and Syrah 15%.
Wine making: the grapes are manually harvested, vinification is in stainless steel tanks, the aging is for ten months in concrete or stainless steel tanks.
Alcoholic content: 13,50%.
Serving temperature: in warm season, better at 16°C.
Suggested food pairing: a perfect wine for salami, cheese, and red meat.