Beef mince with an onion sauce and Pecorino Romano crumble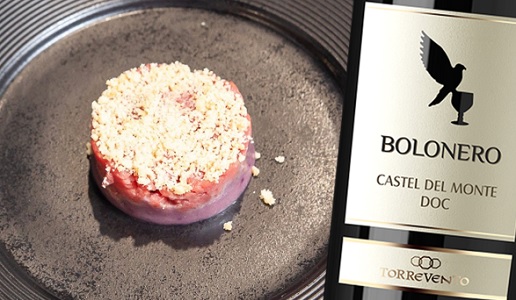 Enjoy this dish with a Castel del Monte DOC Bolonero 2020 Torrevento. The recipe was created during the "Pecorino for You Delivery" contest for hospitality students in collaboration with the Italian Professional Chefs Association (APCI). It was made by A. Nicu from the Adriano Olivetti IPSSEC technical institute in Monza.
Ingredients for 1 portion:
100g Tropea onions, 70 Pecorino Romano cheese, 50g OO flour, 50g butter, 150g beef filet, 15g sugar, 5g pomegranate syrup, oil, salt and pepper as desired.
Directions:
Dry the beef filet with paper towels and mince it finely. Season with oil and salt and pepper to taste.
Cut the onion into thin, round slices, mix them with the sugar and pomegranate syrup and blend it into a creamy sauce.
Melt the butter and add to it the flour and mix in the Pecorino Romano. Bake at 160°C until it becomes a golden crumble.
Place a food ring mold at the center of a plate. Inside create a base of the Tropea onion sauce then top with the beef mince and garnish with the crumble.

Wine to pair:
(edited by Stefania Vinciguerra)
Castel del Monte Bolonero 2020 Torrevento
Dark ruby color. Lively and clean aromas of wildberries, spices and eucalyptus. Rich and vigorous taste yet agile and balanced with a convincing finish.
Production area: hills of the Castel del Monte DOC area in Puglia. Altitude 350-400 meters above sea level, calcareous-clayey alluvial soil with medium texture.
Grape varieties: Nero di Troia and Aglianico, vertically trellised spurred cordon training system, density 4,200 vines/ha. Yield 11 tons/ha.
Harvest: mid to late October.
Vinification: fermentation with maceration, aging in stainless steel for 8 months.
Alcohol content: 13% vol.
Serving temperature: 18°C
Recommended food pairings: ideal wine to accompany red meats, roasts, game, aged cheeses and cured meats.
Related Products