Baccalà my way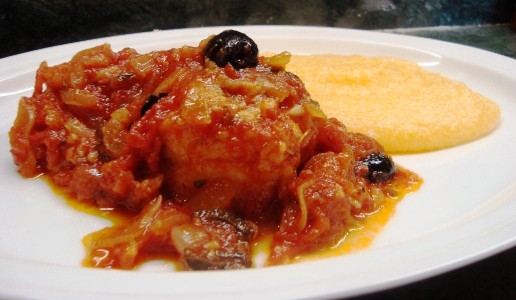 Variations of this recipe can be found in different Italian regions. I like to pair it with a Cerasuolo d'Abruzzo Villa Medoro.
This is actually not made with salted cod (baccalà) but stockfish but then again many baccalà recipes from the Veneto region are made with stockfish.
Both fish are from the same family (gadus morhua) and the difference is the way they are salted. Baccalà is salted (the amount of salt absorbed cannot exceed 18% of the final weight) either before or after it has been dried, while stockfish is dried naturally in the open air on special racks exposed to the sun and wind for around three months. It is produced in Norway on the Lofoten Islands.
Stockfish is what should be used for this particular recipe.
Ingredients for 4 people:
800g soaked stockfish (net weight), 2 red onions, parsley, 1 glass white wine, 400g peeled tomatoes, 200g black Gaeta olives, abundant extra-virgin olive oil, salt and pepper.
Directions:
Put some oil in a pan with the onions that have been slices thinly, chopped parsley and the peeled tomatoes. Add the stockfish that has been deboned, scaled and cut into pieces. Douse everything with the wine and salt and pepper to taste.
Cook uncovered on a moderate heat for a good hour, stirring often and adding hot water when necessary to keep if from drying out.
Add the black olives and finish cooking, waiting a few minutes before serving when done.
This is excellent with polenta.

Wine to pair:
erasuolo d'Abruzzo Villa Medoro
The classic cerasulo (cherry) color introduces an aroma of red fruit (raspberry) with a floral hint and grassy whiffs. The mouthfeel is fresh and fragrant, flowing and flavorful with an excellent drinkability.
Area of production: the vineyards are in the town of Atri, in the Colline Teranabe hills, where the soil tends to be clay and chalky.
Varietals: Montepulciano d'Abruzzo with a density of 4,400 rootstocks per hectare with 60% of the grapes becoming wine.
Production: Harvest takes place between the end of September and the middle of October. The juice macerates on the skins for 10-12 hours at a temperature of 5-6°C and then ferments in stainless steel vats at 16-17°C without any malolactic fermentation. The wine the matures in the bottle.
Alcoholic content: 12.5%
Serving temperature: 12-14°C.
Suggested pairings: A table wine suite for dishes with a medium structure as well as meat starters and fresh cheese.
Related Products