Asparagus risotto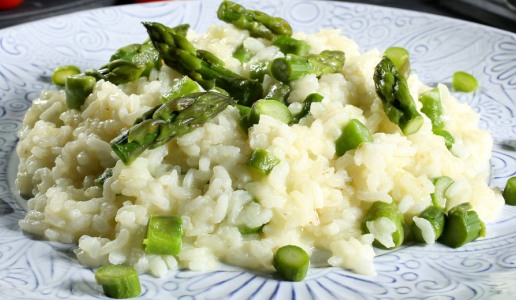 Because spring is so late in coming, we suggest preparing an asparagus risotto that pairs perfectly with a Litorale 2018 Maremma Toscana Vermentino DOC Val delle Rose from the Cecchi family.
Ingredients for 4 people:
350g Carnaroli rice, 600g asparagus, 2 tablespoons extra-virgin olive oil, 1 shallot, 70g butter, ¼ onion, 2 tablespoons white wine, grated Parmigiano Reggiano, salt and pepper.
Directions:
Clean the asparagus well and cut each into three pieces: the tip, the green central body, which takes longer to cook, and the harder bottom part.
Use the latter to make a vegetable broth by boiling them in salted water. The broth will be used to cook the rice.
Melt 15g of butter in a pan and sauté the asparagus tips, letting them cook for five minutes. Keep the tips to the side to be added later to the rice.
Cut the center part of the asparagus into discs. Dice the shallot and sauté it in EVOO and then add the asparagus discs and cook for a few minutes. Salt and pepper to taste.
In another pan, sauté the onion in 30g of butter and add the rice. Pour in the wine and let it burn off as you toast the rice until it becomes translucent. Now mix in the asparagus discs using a wooden spoon.
Add a couple of ladles of the boiling asparagus broth and cook. Keep stirring and adding broth as the rice dries out.
Just before the rice is done, remove the pan from the heat and mix in the remaining butter, grated Parmigiano Reggiano and most of the asparagus tips.
Mix delicately and then let the rice sit for a few minutes. Garnish with the remaining asparagus tips and serve.

Wine to pair:
Litorale 2018 Maremma Toscana Vermentino Doc Val delle Rose - Famiglia Cecchi
Vermentino is a grape variety that gives excellent results in coastal areas, in sunny lands, such as the Maremma Toscana and Litorale is a best seller of the area. Pale yellow color with light golden hues. Very intense fruity aroma, especially summer and tropical fruit, with hints of aromatic herbs. Fresh and briny on the palate, with rich body and fruity taste.
Production area: Maremma, Coastal Southern Tuscany. Vineyards are located on hilly slopes at 150 meters above sea level on sandstone rich in decomposing rock soils.
Grape varieties: Vermentino 90%, other varieties 10%, Guyot trained.
Wine-making: The grapes are the first to be harvested at the end of August and first week of September. Vinification off-skin with cold-controlled pre-fermentative maceration. Fermentation in small and medium stainless steel tank. Bottle age minimum 2 months.
Service temperature: 10°C
Alcoholic content: 13% vol.
Suggested food pairing: Serve with fish dishes, seafood and risottos or as an aperitif.
Related Products