Artichokes stuffed with chicken meatloaf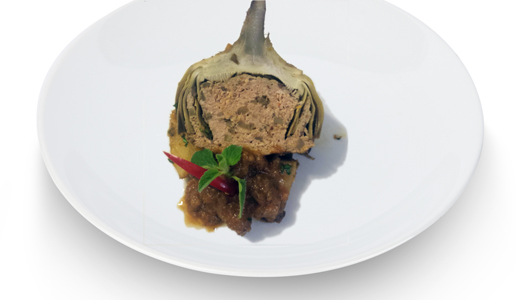 This recipe is from Chef Antonio Sciullo, of the star Ristorante Ninfeo at the Terme di Stigliano spa in Canale Monterano. We pair it with the Famiglia Cotarella wine Soente.
A dish that is very simple to make but also fun and unusual, a different way to enjoy both artichokes and chicken. It can be served as a starter (in this case half portions) or as a main course.
Ingredients for 4 people:
4 Roman cimaroli artichokes, 200g chicken pulp, 50g pork pulp, 100g of white bread without crust, 1 whole raw egg, 1 roughly chopped hard-boiled egg, 30g grated pecorino cheese, 30g of chopped scamorza cheese, 100g chopped black olives, 1 chopped anchovy preserved in oil, 1 potato, 10g chopped pistachios, 2cl dry Marsala wine, 5cl dry white wine, about 1l vegetable broth, chopped wild mint and parsley, salt and pepper, 1 garlic head and extra-virgin olive oil as needed.
Directions:
Wash the artichokes, remove the harder outer leaves (not too many) and keep aside. Cut the stems leaving about 3-4cm. Clean and remove the hard parts of the cut stems, cut them into small pieces and fry in a pan with EVOO aromatized with a garlic clove and wild mint.
Grind both meats in a meat grinder at least twice (more if you want a creamier filling) together with the bread, salt and pepper.
Put the ground meat in a bowl and add the raw egg and mix it in then add the other ingredients, including the fried artichoke stems, and mix again. Salt and pepper to taste.
Stuff the raw artichokes with the meat filling.
Place the artichokes in a pan (one that can also go in the oven) face down adding some EVOO, wild mint, unpeeled garlic and the anchovy. Flavor further with a little more EVOO, a pinch of salt and pepper.
Peel the potato and cut it into large pieces and place them between the artichokes to keep them upright.
Brown the artichokes to give them a slightly smoky flavor and enhance the other flavors. Add in the artichoke leaves removed at the start.
Douse the artichokes with wine and let it evaporate. Add in the vegetable broth to cover the artichokes half way.
Place wet baking paper over the pan and put the pan cover on top. Bake for an hour at 150°C, making sure the artichokes do not dry out by adding more broth if necessary.
When done, serve the artichokes whole or cut in half with their juice and the potatoes.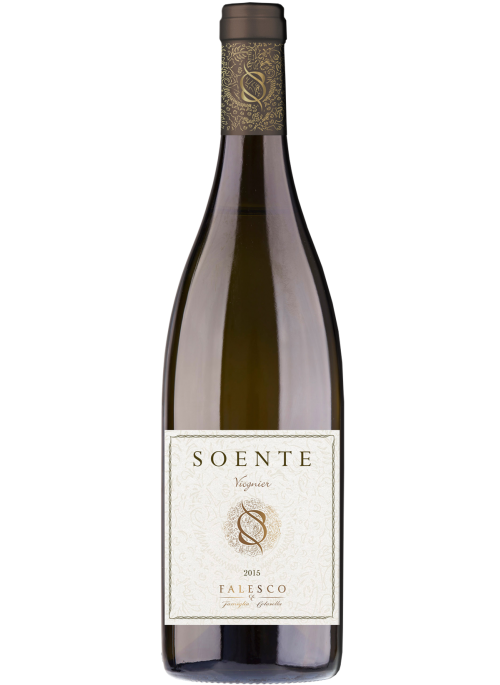 Wine to pair:
Soente Viognier Lazio Igp Famiglia Cotarella
Intense greenish yellow color. Great complexity to the nose with notes of medlar, exotic fruits and flint. Hydrocarbon in the beginning. Rich and tense taste, warm, savory and very persistent.
Production area: Montiano Estate in Latium region, from a 5 ha vineyard located at 300 m. asl, on crumbly, rich in pebbles soil.
Grape variety: 100% Viognier Guyot trained, with 4500 plants/ha and an average production of 6,5 t/ha. All the agricultural operations have the aim to obtain balanced grapes that can give fresh, savory and tasty wines.
Wine-making: grapes are harvested in the first half of September. Then are subjected to cryomaceration and subsequently fermented at a temperature between 13° and 15° C. No malolactic fermentation takes place. Stainless steel élevage on the yeasts for 6 months. Bottle ageing 4 months.
Alcoholic content: 13,50% vol
Serving temperature: 10-12°C.
Suggested food pairing: as an aperitif in combination with country vegetable cakes, also accompanies fish dishes or stuffed pasta, vegetables au gratin and white meat with sauces.
Related Products