A triad of farro, lentils and zucchini sautéed with cherry tomatoes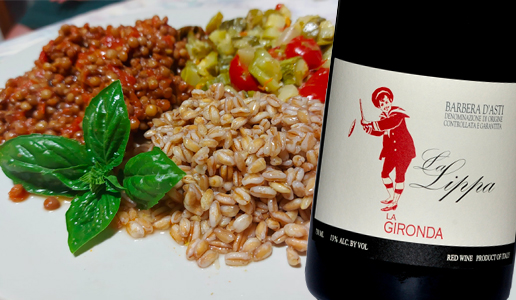 A cool yet substantial recipe that pairs well with a Barbera d'Asti La Lippa 2020 La Gironda. Serve cold.
The cultivation of farro dicocco or Triticum dicoccum, also known as emmer, is widespread in the Apennine Mountains, Tuscany, Umbria, the Marche, Abruzzo, Molise and Lazio. It is used to make soups or, in this case, for cold plates. Its flour is also used to make bread, cakes, pizza and focaccia, while its semolina is used to make pasta.
The grain comes in three versions: pearl farro dicocco, which does not need to pre-soak; hulled farro, which needs to soak at least for eight hours and needs more time to cook; and whole farro, which is often sold in specialty shops and needs to soak much longer and takes over an hour to cook.
N.B. farro monococco, the oldest variety, has a gluten level of only 3%.
Ingredients for 4 people:
250g pearl farro, 500g Romanesco zucchini, 12 cherry tomatoes, 200g dry Castelluccio lentils, 1 cup tomato sauce, 2 onions, 1 celery stick, 1 garlic clove, salt and extra-virgin olive oil as needed.
Directions:
Boil the farro in salted water for around 30 minutes or 10 minutes in a pressure cooker. Let the farro sit for 10 minutes, drain and then spread it out on a broad plate to cool and season with some EVOO to avoid the grains sticking together.
Boil the lentils for 30 minutes starting with cold and salted water seasoned with the garlic, onion and celery.
Cut the zucchini into discs and sauté them in a broad pan, adding in the tomatoes that have been cut in half.
Sauté the other onion that has been sliced and add the tomato sauce.
When the lentils are cooked, remove the garlic, onion and celery and, after draining the excess water, mix them in with the tomato sauce and warm up. Salt to taste.
Serve the farro on flat plates alongside the zucchini and lentils.

Wine to pair:
(edited by Stefania Vinciguerra)
Barbera d'Asti La Lippa 2020 La Gironda
Intense ruby-purple color. Clear, intense and captivating nose, with red fruit, floral hints of rose and an intriguing hint of orange marmalade. Very fresh in the mouth, tasty, fruity, with a nice gustative drive which leads to a pleasant fruity finish.
Production area: the hill known as Il Bricco di Nizza and the hamlet. Chiesavecchia in the municipality of Calamandrana, where the old existing vineyards have been recovered and new ones have been planted.
Grape variety: 100% Barbera.
Production system: no chemical herbicides, no synthetic products, reduced consumption of environmental resources, manual management of every activity in the vineyard (from pruning to harvesting), minimal intervention in the vineyard and cellar, use of light bottles and ecological corks made of sugar cane. The aging is only in stainless steel, to maintain its young and lively taste.
Serving temperature: in summer, about 10-12°C.
Suggested food pairings: Perfect with bread and salami, it pairs with all first courses, risottos, pasta and also ethnic dishes. Ideal with pizza or a barbecue with friends. For something surprising, try with fish, especially in soup.
Related Products