A reinterpretation of pasta with sardines
Thus typical Sicilian dish has been reinterpreted by Chef Philip Guardione who enhanced its complexity while maintaining its traditional characteristics. We pair it with a Vittoria Frappato Bell'Assai 2016 Donnafugata
To mark World Pasta Day, to be celebrated worldwide on October 25, 2018, the Executive Chef for the Piccola Cucina chain in New York, Philip Guardione, decided to come up with a special reinterpretation of pasta with sardines (sarde), one of the Sicilian dishes he most found of.
This typical and 'poor' recipe is a combination of simple ingredients and flavors that represent an ode to the best of Sicilian cuisine: the saltiness of sardines, the fresh and aromatic flavor of wild fennel and a sweet and sour note of raisins.
Philip Guardione's reinterpretation maintained these classic elements but he enhanced the dish's complexity playing on the contrasts between sweet and salty, velvety and crispy to create an explosion of flavor.
Ingredients for 4 people:
For the pasta and sauce: 320g ziti pasta, saffron, 350g fresh sardines, 1 shallot, extra-virgin olive oil, fresh wild fennel, 1 tablespoon of pine nuts and raisins and salt.
For the sardine rissoles: 200g fresh sardines, pine nuts and raisins, fresh wild fennel, lemon and orange peels, breadcrumbs and frying oil.
For the marinated sardines: 150g fresh sardines, sparkling water, red-wine vinegar, fresh wild fennel and pink pepper
For the saffron sauce: 1 shallot, extra-virgin olive oil, 1 potato, vegetable broth and saffron.
Directions:
Dunk the wild fennel in boiling water and then immediately in cold water.
Brown a shallot in a pan with EVOO and then add 350g of sardines that have been cleaned (scaled and gutted), the pine nuts and raisins, a little of the water the fennel was boiled and then cook for a few minutes. Blend with a mixer and keep the sauce to the side.
Marinate 150g of sardines in sparkling water, red-wine vinegar, pink pepper and wild fennel for a dozen or so minutes.
Cook the pasta in boiling water with not only coarse salt but also some saffron pistils.
Brown a shallot in a pan with EVOO and add in the potato that has been cut into small cubes, some vegetable broth and saffron and cook fully before blending with a trickle of EVOO.
Mash 200g of sardines for the rissoles together with finely chopped raisins and pine nuts, wild fennel and lemon and orange peels. Make small balls out of the mash and then bread and fry them.
Mix the pasta with the sauce and serve in on a plate garnished with the marinated sardines, saffron sauce, rissoles, breadcrumbs and crispy wild fennel.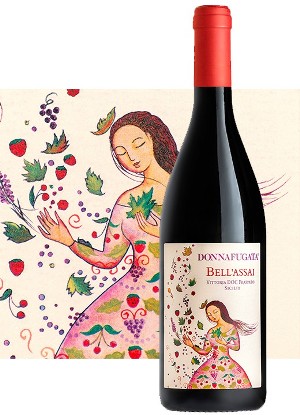 Wine to pair:
(edited by Stefania Vinciguerra)
Vittoria Frappato Bell'Assai 2016 Donnafugata
First year of production for this Frappato DOC. Pale ruby red color. Rich and attractive aromas of spices, green pepper, hints of wild fennel, roses, pomegranate and yellow plums. Pleasant drinkability, good acidity and very savory finish. An immediate red with great pleasantness.
Production Area: In the Vittoria area, between the Hyblean plateau and the sea in south-eastern Sicily, Donnafugata can count on 36 hectares of vineyards in production. Frappato is cultivates n the territory of Acate, a comune that falls within the "classic" perimeter of the denomination Vittoria. The soils are medium-textured interspersed with calcareous tuff. The climate is typically Mediterranean, warm temperate, mitigated by a sea breeze during the summer, as well as by a wide variation between day and night temperatures.
Grape variety: 100% Frappato.
Wine-making: Vinification in stainless steel with maceration on the skins for about 8-9 days at a temperature of 24-25°C (75,2- 77°F). 4 months in vats and 3 months in bottle
Alcoholic Content: 13,50% vol.
Serving Temperature: 16°C (60°F)°
Suggested Food Pairings: salumi, tasty fish dishes such as soups or guazzetti, tuna sushi as well as typical Sicilian dishes such as "arancini di riso", rice-balls.
Related Products