A New Year's appetizer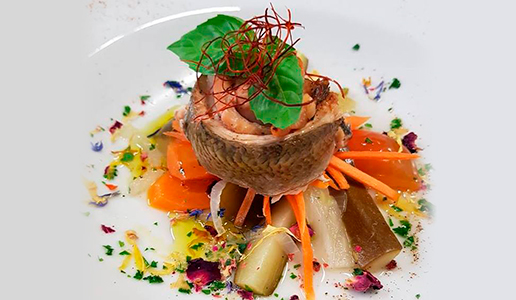 For New Year's Eve we offer this unusual and very pleasing appetizer: Marinated Lavaret. While this is difficult to pair, we suggest a Malvasia del Collio Pètris Venica & Venica.
Lavaret or whitefish is a freshwater fish of the Salmonidae family that was introduced in the 19th century into Swiss lakes and later spread to Italy, especially in the region of Lazio and lakes in the Alpine foothills.
It is popular thanks to its delicate and easy-to-digest meat and is often cooked with aromatic herbs that enhance its mild flavor.
Ingredients for 4 people:
4 lavaret fillets, 2 carrots, 2 zucchinis, 2 red onions, 1 red pepper, 2 white celery sticks, 2l water, 1l white-wine vinegar, 600g sugar, 1 tablespoon honey, 2 laurel (bay) leaves and 1 teaspoon salt.
Directions:
Fold each fillet into a rose shape, trickle with some extra-virgin olive oil and bake for 8 minutes at 180°C.
Cut the carrot into discs, the celery into small pieces, the pepper into small squares, the zucchinis into diamond shapes and the onion into cloves.
Boil together the water, vinegar, salt, sugar, honey and laurel leaves for 15 minutes.
Parboil all the vegetables separately ensuring they remain crispy.
Let the liquid cool then add in all the vegetables and the fish and let sit at least overnight.
Remove the fish and marinade from the refrigerator two hours before serving and compose and garnish as desired.

Wine to pair:
Collio Malvasia Pètris Venica & Venica
Straw-yellow color with green and golden reflections. The bouquet has scents of chestnut honey, ripe fruit, rue, a lot of lavender and candied orange peel. The flavor is consistent with the aroma and the mouthfeel harmonious, fat and mineral, very drinkable and persistent.
Area of production: Dolenga, in the northern area of Collio Goriziano.
Varietal: Malvasia.
Production: The grapes are harvested and destemmed in the first half of September and then macerate for 20 hours at a temperature of 10-12°C in containers that keep out oxygen through an innovated method that recycles the carbonation from fermentation in order to reduce the amount of antitoxins. 60% of the must ferments and matures on the lees for five months in large wood barrels (20-27hl) and the rest in stainless steel vats. The wines are then blended together and bottled during the full moon of late March.
Alcoholic content: 13.5%
Serving temperature. 12-13°C.
Suggested pairings: fish appetizers, canapés and white meats.
Related Products