What is Christmas without panettone?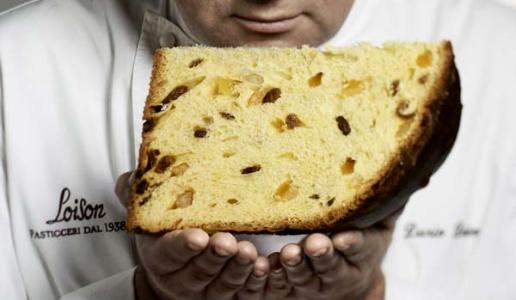 Love it or not, panettone is Christmas. And with Loison's Panettone al Mandarino (tangerine-flavored panettone) it's a Super-Christmas.
Practically all Italian families have panettone at Christmas. Some may prefer pandoro or other seasonal cakes but panettone is a tradition. Today there are many versions to meet all tastes and preferences and so it is difficult to not find something that satisfies your desires. I have just discovered a version (better yet re-discovered since I'd tasted it before) and it was sublime to say the least.
The panettone is from Loison and the particular version is Mandarino Tardivo di Ciaculli. It part of the company's Linea Top (Top Line) collection that along with sultana raisins is enriched with candied tangerines harvested in March and named after the Ciaculli district of Palermo where they are cultivated. The fruit is very fragrant and sweet and the peel very subtle.
The fruit is the key ingredient of this panettone (11% candied fruit with an equal amount of raisins) made by the Loison family bakery, "Pasticceria d'Autore", in the province of Vicenza. Founded in 1939, it has seen three generations of bakers, from grandfather Tranquillo, to his son Alessandro and to his son Dario Loison, who runs the bakery today.
Panettone al Mandarino
Linea Top - Latta
The dough has butter, milk, fresh cream and natural Mananara vanilla from Madagascar and is enriched with sultana raisins and candied, late-harvest Ciaculli tangerines. The dough rises naturally and the panettone resembles the low "Veneto style" version. Cutting it open immediately unleashes a clear aroma of tangerine along with a hint of vanilla and in the mouth it is soft yet consistent with a flavor that strikes the right balance between all the ingredients.
In regard to its nutritional values, an average 80g slice contains 290 calories, 11g of fat (6g saturated) and 43g of carbohydrates, 22g from sugar, and 5g protein.
Each panettone in this this Linea Top product is wrapped and put into a tin container that has a theme decoration, this year dedicated to jewels.
Weight: 750g
25,90 Euros
Related Products