Panettone al Mandarino Linea Top - Latta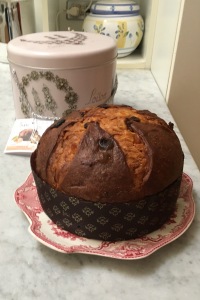 Author
Stefania Vinciguerra
Date of publication
29/11/18
Score
N.C./100

DoctorWine Award greater than 95

Denomination
Awards
Value for money
Current price

25.90 €

Country
Nation
The dough has butter, milk, fresh cream and natural Mananara vanilla from Madagascar and is enriched with sultana raisins and candied, late-harvest Ciaculli tangerines. The dough rises naturally and the panettone resembles the low "Veneto style" version. Cutting it open immediately unleashes a clear aroma of tangerine along with a hint of vanilla and in the mouth it is soft yet consistent with a flavor that strikes the right balance between all the ingredients.
In regard to its nutritional values, an average 80g slice contains 290 calories, 11g of fat (6g saturated) and 43g of carbohydrates, 22g from sugar, and 5g protein.
Each panettone in this this Linea Top product is wrapped and put into a tin container that has a theme decoration, this year dedicated to jewels.
Weight: 750g