"Female" varietals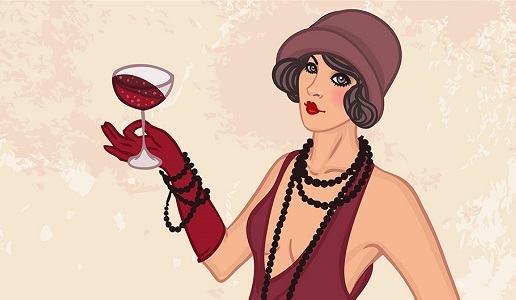 Grammar can be tricky especially in languages that have grammatical gender differences, like Italian. Wine (vino) is considered to be masculine and so you find names such as "iI" Barolo, "il" Brunello and "Il" Taurasi. However, when it comes to the varietals that produce the wine things are different and some grapes and the wine are considered feminine and whether this has to do with their characteristics is anyone's guess.
In Italian, the definite article "il" is used to indicate a masculine name and "la" for a feminine one. The Italian word for grape, uva, is feminine and no one questions this. The same goes for such words as vine (vite), shoot (barbatella) and vineyard (vigna). Varietal, on the other hand, is masculine as are the names for many varieties and as a result a host of technical terms and specific practices are also deemed to be masculine. This is a shame but there are some exceptions, actually quite a few.
I remember how Luigi Veronelli would always say "la" Barbera is a female wine. And in the Langhe, in Monferrato, everyone considers it to be female. It is thus "la" Barbera and not "il" Barbera. And the characteristics this grape gives to the wine it produces differs greatly depending on where it grows. The wine is more austere and bold in the Langhe, more wrapping in the province of Asti and sometimes even rustic and effervescent in Monferrato, Oltrepò and the Colli Piacentini. Nevertheless, the gender of the varietal always remains feminine, hence "la" Barbera. And the wine it makes is always welcoming and smiling and if, at times, it is a tad sharp and tart, so be it.
In Oltrepò and the Colli Piacentini hills there are also such varietals as "la" Bonarda, "la" Croatina and Uva Rara. These produce joyous and sometimes bubbly red wines that pair perfectly with the local cold cuts. Another female variety is "la" Schiava, which translates slave but has nothing to do with slavery. In German, it is called Vernatsch, which probably derives from the Latin word "vernaculum" that means "from the area". In Alto Adige/Sudtirol both words are used and the grape produces light, easy to drink wines that are pleasing and eclectic when it comes to pairing. The varietal is the primary component of a red wine with a great tradition behind it, Santa Maddalena, which is produced in the hills east of Bolzano, all covered with beautiful, steep vineyards. In this case, the wine is doubly feminine, first for the name of the grape and second for the "Santa" or saint it is dedicated to.
There are many wines made from the Vernaccia grape and they are all feminine, each different from the other because the wine is made from the variety typical for a certain area. It is red in Serrapetrona in the Marche region, golden and sherry-like in Oristano in Sardinia and white and fragrant in the Tuscan city of San Gimignano. Each is fascinating in their own way, as are women in the eyes of men, or at least I hope so.
Let us go back to the subject of those varietals that have names that indicate femininity, both in name and the traits of the wine they make. Prosecco is a masculine word but the varietal that produces it, its mother, is "la" Glera. It is now produced from Trieste downwards, throughout Friuli and Veneto all the way to Valdobbiadene and Asolo. The wine is effervescent and the Italian word for bubbles, bollicine, is feminine. Prosecco, which many people around the world use to celebrate special occasions, is for the most part fragrant and light, sometimes somewhat simple but very popular and easy to comprehend. At the same time, those from Rive di Valdobbiadene, Cartizze and Asolo, made often from lovely vineyards, can achieve surprisingly high levels of quality.
In the region of Friuli, in Colli Goriziano and for the most part Colli Orientali, they cultivate "la" Ribolla Gialla, an ancient and traditional white grape that can be interpreted in many ways and thus produces different wines. Some use it to make a still, fragrant, saline and fresh wine. Then there are those who use it to make a fragrant bubbly, while others even let the wine sit on the skins, as if it were a red grape, to produce an orange wine, sometimes even maturing the wine in terracotta amphorae. Then there is the red grape Schioppettino, a masculine name, that is often referred to as Ribolla Nera, making it a kind of wine transgender, if you like.
"La" Malvasia, which probably came from the Peloponnesian peninsula in Greece, has evolved into unexpectedly different varieties and thus different types of wines. There is Malvasia di Candia, including the Aromatica variety, which is the base for wines in the provinces of Piacenza and Parma but it is also found in the Castelli Romani. Then there are the Bianca and Lunga versions, mostly found in Tuscany, which is even used to make the Vin Santo dessert wine. Malvasia Istriana is found in Collio, on the Carso (Karst) plateau as well as other areas of Friuli, Malvasia delle Lipari is a very ancient variety that produces a wonderful, sweet white wine. The red variety, in Castelnuovo Don Bosco, in Piedmont, produces a semi-sweet, fragrant and effervescent wine. And so we found ourselves with a multitude of different varietals, all with feminine names and all with unique characteristics producing wines that are even very different from each other.
There are fewer grapes with a feminine name in southern Italy although some are some very famous and popular ones. Perhaps the best-known one is "la" Falanghina, which is cultivated in the regions of Campania and Molise and has sometimes distinctly different biotypes. There is one in Campi Flegrei and another in Sannio Beneventano, for example. Experts in ampelography say the two grapes may be remotely related but are distinctly different. And the wines they produce are also very different from each other. The one from Campi Flegrei is smoky and somewhat sulfurous, compared to the one from Sannio that is fruitier and more citrusy. Both wines are very pleasing, saline, fresh and easy to drink. They are also somewhat delicate, making them even more feminine than their name would suggest.
But there is more. In the Marche, Abruzzo and Lazio regions you find "la" Passerina, which in general produces saline and fresh white wines, usually still but sometimes effervescent, and in the province of Frosinone it is even used to make an orange wine.
In Verona there is "la" Garganega, used for all the Soave wines including Recioto white and sweet. The same area is also home to a very great feminine red varietal that together with other varieties, also feminine, are used to make Valpolicella wines, note the "a" at the end. The varietal is "la" Corvina and it has sisters named Rondinella, Oseleta, Negrara and Molinara. They are used to make Amarone, Ricioto Dolce, Bardolino and Valpolicella.
For sure I have skipped others with Coda di Volpe, Cococciola and Ughetta the first that come to mind. And while there are many other female grapes they all have something in common. The wines they produce are almost always easier to comprehend and more composed, if the gender is not just a linguistic or grammatical coincidence but has to do with something deeper. Who's to say.