A Giro d'Italia in 80 wines (3): The northwest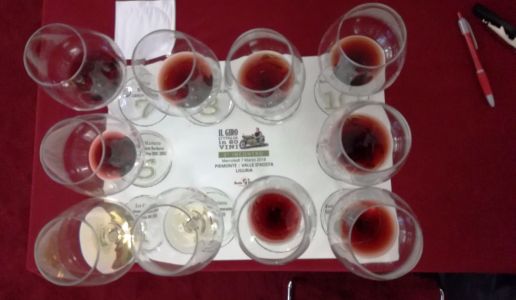 The third stage of our tour through Italian vineyards passes through Valle d'Aosta, Piedmont and Liguria.
It is not easy to lump Italy's three northwestern regions together into a single tasting.
Valle d'Aosta is essentially a mountainous region and its wines are mountain wines with vineyards growing on steep inclines and at very high altitudes. These are more slender wines distinguished by a pronounced acidity.
Piedmont (together with Tuscany) is Italy's best-known winemaking region abroad and this is a result a centuries old rapport between a generous nature and the work of men who have been able to keep alive ancient traditions and produce wines that are known the world over. Nebbiolo, Barbera, Dolcetto, Grignolino and Freisa, together with the white grapes Arneis, Cortese and Timorasso are the basis for an ampelographic wealth of great interest.
In Liguria, with its hills that seem to drop off into the sea, winegrowing is an activity that borders on heroism.
Related Products
Product
Producer
Date of publication
Author
Read
Chardonnay Cuvée Bois 2015
Valle d'Aosta
Les Crêtes
04/04/18
Daniele Cernilli
100% Chardonnay grapes. Ferments and matured 10 months in French durmast 300lt barrels. Golden yellow color. Intriguing and complex aromas of tropical fruits and dry nuts, with a slight citrusy notes...
Leggi tutto
Pitasso 2015
Colli Tortonesi
Claudio Mariotto
04/04/18
Daniele Cernilli
100% Timorasso grapes. Stainless steel on the lees for 10 months. Intense straw yellow color. Varied aromas with smoky hints in the beginning, then flint, exotic fruits, citrus, grapefruit and...
Leggi tutto
Niccolò V Riserva 2010
Colli di Luni
Cantine Lunae
04/04/18
Daniele Cernilli
A blend of Sangiovese, Pollera Nera and Merlot that matures in barriques for 18 months. The wine has an intense ruby color and lovely concentration, while the aroma has hint of toasted notes, coffee,...
Leggi tutto
Vigna Villa della Regina 2012
Freisa di Chieri Superiore
Balbiano
04/04/18
Daniele Cernilli
Made from Freisa grapes and matured in wood for around a year. The color is an intense, ruby-garnet and the aroma is articulated and surprisingly broad with notes of cherry and wild berries alongside...
Leggi tutto
Poggio del Rosso 2012
Colli Tortonesi
Claudio Mariotto
04/04/18
Daniele Cernilli
Made from Barbera grapes and matured in large barrels for 18 months, this has an intense and concentrated ruby color. The bouquet has a woody and spicy attack with notes of vanilla, blackcurrant and...
Leggi tutto
Rosso Barchetta 2006
Monferrato
Colle Manora
04/12/18
Daniele Cernilli
A blend of 60% Cabernet Sauvignon and 40% Merlot that matures in barriques for about a year. The color is a very intense ruby-garnet and the aroma is broad with notices of sour cherry jam, balsamic...
Leggi tutto
Il Bricco 2013
Barbaresco
Pio Cesare
04/04/18
Daniele Cernilli
Made from Nebbiolo grapes and matured in barrels of different sizes for 42 months. The wine has a lively, ruby-garnet color and the aroma has notes of violet, pomegranate, currant and licorice. The...
Leggi tutto
Campo Quadro 2010
Barbaresco
Punset
04/04/18
Daniele Cernilli
Made from Nebbiolo and matured in barriques and other sized barrels, this has a lively, ruby-garnet color. The aroma is classic and clear with notes of plum and medicinal herbs and hints of rhubarb...
Leggi tutto
Cerequio 2008
Barolo
Batasiolo
04/04/18
Daniele Cernilli
Made from Nebbiolo grapes and matured in large barrels for 30 months. The color is a lively ruby-garnet and the aroma balsamic and spicy with classic notes of mint, violet and currant with hints of...
Leggi tutto
Ornato 2007
Barolo
Pio Cesare
04/04/18
Daniele Cernilli
A wine made from Nebbiolo grapes that matures in barrels of various sizes for 42 months. The color is an intense, ruby-garnet and the bouquet is austere and complex with notes of black cherry,...
Leggi tutto
Punset

04/21/17
Redazione
The estate has been a flagbearer of organic winegrowing a long time. Founded 60 years ago, it produces above all various versions of Barbaresco. Their prize possession is the cru Campo Quadro, a...
Leggi tutto
Les Crêtes

07/09/12
Redazione
Costantino Charrère is a key figure in this small region's winemaking scene who set up his winery 25 years ago and since then has made it one of the best in Italy. He has 20 hectares of...
Leggi tutto
Claudio Mariotto

08/29/16
Redazione
The Timorasso 'clan' is composed of a half a dozen winegrowers who operate around Tortona, in the extreme southeast corner of Piedmont near the border with Oltrepò. They are all...
Leggi tutto
Cantine Lunae

04/12/18
Redazione Grafica
Colli di Luni is part of a terroir that extends into both Liguria and Tuscany. Bosoni is perfect interpreter of this duality, producing wines that combines the crispy grace of Ligurian wines enriched...
Leggi tutto
Balbiano

04/04/18
Redazione Grafica

Colle Manora

04/04/18
Redazione Grafica

Pio Cesare

09/04/13
Redazione

Batasiolo

12/05/15
Redazione
This great winery is owned by the Dogliani family. Its vineyards are spread out in various towns in the Barolo district, in La Morra and Serralunga in particular which produce the cru Brunate and...
Leggi tutto
Related Articles