Pouched eggs on a sweet tomato sauce topped with figs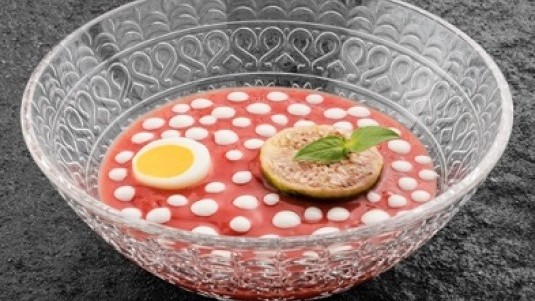 Behind this seemingly simple recipe is the creativity of a great chef: Davide Oldani of the D'O restaurant. We suggest it be paired with a Valdobbiadene Prosecco Superiore Nodi from Nino Franco.
Ingredients for 4 people:
For the sauce: 150g ripe tomatoes, 2g extra-virgin olive oil, salt and sugar (taste the tomatoes first and if they are already sweet forgo adding the sugar).
For the eggs: 4 fresh eggs (70g each), 1l of water and 2ml white wine vinegar.
For the topping: Maldon sea salt and two figs cut into slices.
Directions:
For the sauce: warm the olive oil in a pan and add the tomatoes that have been cut into small pieces. Salt and sugar to taste. Blend in a mixer and then strain through a sieve. Keep warm.
For the eggs : bring the water with the vinegar to a boil and then using a spoon create a vortex. Add the eggs (which have previously been opened over a cup) one by one and cook for around 3 minutes. Drain the water and dry the eggs on a paper towel.
For serving : spread some tomato sauce at the center of each plate, place an egg in the middle and garish with the sliced figs and Maldon salt.
Wine to pair:
Nodi Valdobbiadene Prosecco Superiore Docg Nino Franco
Light straw yellow with fine and persistent bubbles. Floral bouquet, with wisteria and rose aromas, fruity notes of pear and gooseberry. Intense and smooth to the palate, with hints of lime and stone fruit. The complexity is supported by good acidity with a pleasant savory hint in the finish.
Production area: the DOCG Valdobbiadene hills, Col del Vent Vineyard.
Grapes variety: 100% Glera.
Wine making: Charmat Method.
Type: Brut (6g/l)
Alcoholic content: 11,5% vol.
Serving temperature: 6-8°C.
Suggested food pairing: as an aperitif very well coupled with "polenta and soppressa "snacks and "Prosciutto crudo". Perfect with seafood, delicate vegetable "risotto" and shortly aged cheese.
Related Products