Particella 928 Campania Fiano IGP by Cantina del Barone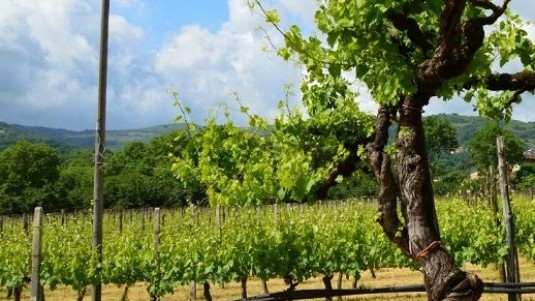 Particella 928 Campania Fiano IGP Cantina del Barone is a wine in a class of its own with undeniable personality.
Enologist Luigi Sarno is the owner of the Cantina del Barone winery in Cesinali which he inherited from his father in 2008 along with two hectares of Fiano vineyards. One of the first things he did was to replant a half-hectare with a new vine-training system and different exposure and from its 2,800 vines comes the wine Particella 928 . The other vineyards are situated in the district of Nocelleto and are planted with Fiano Pavone.
Only Fiano grapes are cultivated and a good percentage of the vines are ungrafted and benefit from distinct diurnal temperature variations and the composition of the loose volcanic soil.
Luigi produces wine using the most appropriate methods given Cesinali's microclimate and following practices generally not used for this varietal, including pressing the grapes without destemming them first, static settling, aerating and fermentation without using any yeasts.
This choice resulted in the wine not receiving a PDO or DOCG quality classification because the tasting panel assigned to evaluate 2012 Fiano Particella 928 found some discrepancies in the aroma and flavor which were not in line with the parameters for Fiano Irpino. But it was exactly with this vintage that Particella 928 was able to in great part express its richness.
The few bottles produced by Cantina del Barone, an estate recognized for its excellence in Irpinia, conserve territorial traits of strong personality which are recognizable in the typical vegetal aromas and the elegant smoky nuance. The miracle of time then played its part.
Cantina del Barone
Owner : Luigi Sarno
Via Provinciale S. Michele, 87
83020 Cesinali (AV)
Tel. +39 320 6981706
www.cantinadelbarone.it
Facebook: Cantina-del-Barone-Az-Agricola
Year of foundation : 1987
Total bottles produced : 25.000
Hectares of vineyard: 2,5
Related Products