Ciolli: A surprising Cesanese di Olevano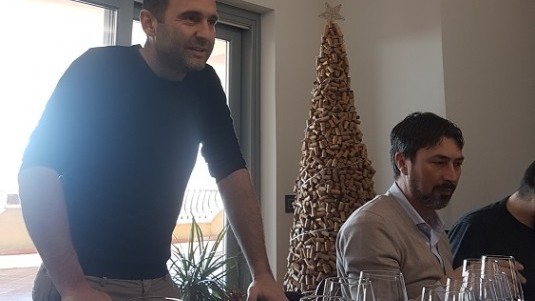 The time has come an end to the bias against Cesanese which has resulted in it being dismissed as only a rustic variety that produces clunky wines. Once defined as the Beaujolais Nouveau "de noartri" (a slang Roman term meaning we others), by our Doctor Wine Daniele Cernilli, it was a slightly sparkling red wine, often sweet, which many years ago flowed like a river in Roman taverns. After years of research, work in the vineyard and experiments using different winemaking methods, many producers of this indigenous Lazio variety have been able to 'clean' this wine's image and give it a new shine.
Several days ago, Riccardo Viscardi and I took part in the first historic vertical tasting of ten vintages of Cesanese di Olevano Romano. It has hosted in the estate of Damiano Ciolli who is, without a doubt, one of the producers who has succeeded in bringing out the best Cesanese can offer.
Olevano is a medieval town on the side of Monte Celeste southeast of Rome that sits at an altitude of 600m above sea level and is surrounded by one if the loveliest landscapes in the Lazio region. Damiano Ciolli joined his father Costantino in 2001 and decided to bottle his own wine using grapes from an old vineyard his grandfather planted in 1953. The wine was named Cirsium and became the estate's cru and the older brother of Silene, the second Cesanese d'Affile produced by this small wine estate of six hectares, 4.5 of which have a volcanic soil. After his father died, Damiano kept on track with the aim of producing a Cesanese that was different from the others, convinced as he was that this grape had much more to offer and that if treated well could produce even elegant wines.
Together with is life partner and enologist Letizia Rocchi, he embarked on years of experimentation and tweaking to correct his aim. He tried using new wood barrels, used barrels, then large barrels, fermenting in stainless steel, then cement, shortening maceration time and so on. In other words, he carried out an in-depth, precise and exhaustive study of his Cesanese in order to create the wine it is today, an elegant wine that has great freshness, crispy fruit and a rip-roaring personality. 
It was an authentic revelation to sample such well-made Cesanese wines that favored elegance and drinkability over structure. The ten Cirsium Cesanese di Olevano Romano DOC vintages in the tasting were from 2001 to 2012 and did not include 2002, which was not produced, nor 2008, of which only a few bottles are left due to a theft at the winery.
Related Products
Product
Producer
Date of publication
Author
Read
Cirsium 2001
Cesanese di Olevano Romano
Damiano Ciolli
02/28/17
Iolanda Maggio
Made from Cesanese di Affile grapes and aged for one year in barriques. Cold this year halved yield but the vintage was one of best in the last ten years. The nose is broad, complex and fine and...
Leggi tutto
Cirsium 2003
Cesanese di Olevano Romano
Damiano Ciolli
02/28/17
Iolanda Maggio
Made from Cesanese di Affile grapes. The product of a very hot year in which there were little temperature variations between day and night. The aroma is of sour cherry jam and sweet spice and the...
Leggi tutto
Cirsium 2004
Cesanese di Olevano Romano
Damiano Ciolli
02/28/17
Iolanda Maggio
Made from Cesanese di Affile grapes. This and 2005 were both cool years and the wine has a transparent, ruby-red color. The aroma is elegant, complex and direct with lovely nuances of red fruit and...
Leggi tutto
Cirsium 2005
Cesanese di Olevano Romano
Damiano Ciolli
02/28/17
Iolanda Maggio
Made from Cesanese di Affile grapes. Less convincing than the 2004 and, while composed, the nose is a bit off. The balanced and harmonious mouthfeel has notes of spice, red and dark fruit and the...
Leggi tutto
Cirsium 2006
Cesanese di Olevano Romano
Damiano Ciolli
02/28/17
Iolanda Maggio
Made from Cesanese di Affile grapes. In this vintage the nose has sweeter notes of cacao, ripe fruit and cinnamon. The mouthfeel is fresh and extremely balanced with a flavors of crispy cherry. The...
Leggi tutto
Cirsium 2007
Cesanese di Olevano Romano
Damiano Ciolli
02/28/17
Iolanda Maggio
Made from Cesanese di Affile grapes. Another hot year but this time the wine's structure is bold and not cooked, thanks to an excellent management of the grapes. The bouquet has the typical notes...
Leggi tutto
Cirsium 2009
Cesanese di Olevano Romano
Damiano Ciolli
02/28/17
Iolanda Maggio
Made from Cesanese di Affile grapes. A cold year and less work was done on the grapes and the wine spent less time on the skins. The aroma has pleasing scents of spice, hints of rose and a smoky...
Leggi tutto
Cirsium 2010
Cesanese di Olevano Romano
Damiano Ciolli
02/28/17
Iolanda Maggio
Made from Cesanese di Affile grapes. A red, lively ruby-red color and a complex and broad aroma with notes of sweet tobacco, wild berries and underbrush together with whiffs of spice and dried...
Leggi tutto
Cirsium 2011
Cesanese di Olevano Romano
Damiano Ciolli
02/28/17
Iolanda Maggio
Made from Cesanese di Affile grapes. The color is an intense, ruby-red and the nose has notes of underbrush, moss and humus while the mouthfeel is full and rich with a nice fruit flavor and hints of...
Leggi tutto
Cirsium 2012
Cesanese di Olevano Romano
Damiano Ciolli
02/28/17
Iolanda Maggio
Made from Cesanese di Affile grapes. A ruby-red color and an elegant, fresh and dynamic aroma of turmeric and ripe cherry. The mouthfeel is juicy yet taut due to the acidity, the tannins are composed...
Leggi tutto