Neromoro Nicodemi, the dark side of Colline Teramane (2)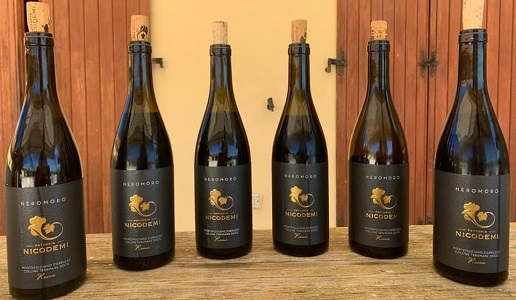 We continue our chat with Elena Nicodemi who, together with her brother Alessandro, is the owner of the Abruzzo estate that carries the family name.
Yesterday, we got a picture of the estate and its characteristics (Neromoro Nicodemi, the dark side of Colline Teramane (1)),
and now, after a few more questions for Elena Nicodemi, we will look at five vintages of their showcase wine: Neromoro, Montepulciano d'Abruzzo Colline Teramane.
DoctorWine: Is it possible to draw any conclusions after almost 20 years since the creation of the DOCG Colline Teramane?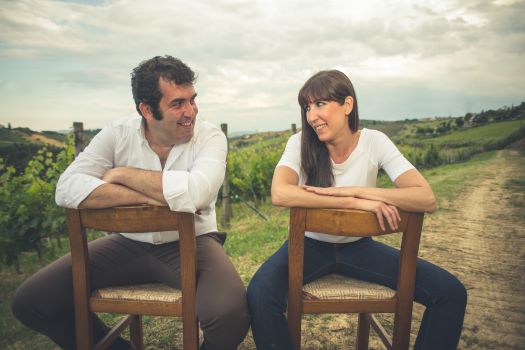 Elena Nicodemi: The Colline Teramane DOCG appellation was established in 2003 with very strict regulations in regard to yield per hectare and methods of maturation, for both the "stock" version and the reserve. Producers in the province of Teramo viewed this new appellation as a means to put their best product on the market, their premier and super-premium lines. However, production of these wines was insufficient to make an impact on the market. Five years ago, the Consorzio Colline Teramane producers' association made changes to the regulations governing the "stock" version, streamlining the guidelines in regard to maturing the wine, making it no longer to do so in wood and shortening the period before the wine could go on the market. These changes were welcomed by producers, so much so that many producers in the area are "converting" a significant part of their production to qualify for the DOCG Colline Teramane classification. The boost in bottle production has given greater visibility on the market to this wine and, consequently, this area. The regulation changes also resulted in an overall change in the style of the vintage wines which "lightened up", with a texture that was less dense and more dynamic and fresh. For sure, production levels are still insufficient and we still have a long way to go, however, the results we have obtained so far are encouraging. Our outlook is thus very positive and propositional because today DOCG Colline Teramane represents the only Montepulciano that, with the obligation to be bottle in the area of production, identifies in an indissoluble way a wine and its territory.
DW: Is there a Neromoro vintage that you particularly fancy?
EN: Neromoro (as with all our wines) grew and evolved as we did. Every vintage was an opportunity to understand and learn something more about the grapes that were harvested from this vineyard. It is for this reason that the latest vintages come closest to what we would like this wine to be. I can say that today I prefer vintages 2013 and 2015. The weather in 2013 was quite balanced and this gave great elegance to the wine. In 2015, on the other hand, it was much drier and the summer was very hot. The wine reflected this heat with significant structure and an aromatic profile that enchanted me, while at the same time the acidity held it together.
DW: Which are your best markets in Italy and abroad?
EN: As I had mentioned before, our estate exports almost 80% of its production. Up until now, the United States has been out best market, absorbing almost 25% of our production. In Europe, we have had excellent results in the established markets and, for sure, Germany has been important for our exports. However, our wines are also present in the Netherlands, Belgium, Switzerland, Ireland, Japan and Brazil. For a few years now we have begun to export to Australia and Singapore. In regard to Italy, unfortunately, an estate as small as ours cannot economically afford a network of sales representatives in key locations. Nevertheless, we are increasing domestic sales thanks to accords with small distributors offering niche wines. For sure, our own region is the one that provides us with the best results.
The tastings
All the wines are 100% Montepulciano and mature in French-oak barriques (50% new and 50% used) for 18 months.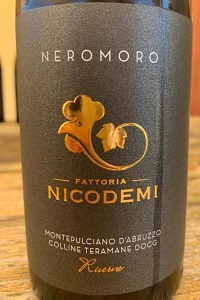 Montepulciano d'Abruzzo Colline Teramane Riserva Neromoro 2015
95/100 - € 27
An opaque, dark-ruby color. The bouquet opens immediately with dark notes and those of cork followed by one of violet on a cherry background with a pleasing animal sensation. The mouthfeel has a fresh attack, excellent body and a flavor full of cherry and violet notes along with those of cork in the dark and very good finish. The tannins are very sweet. Wonderful.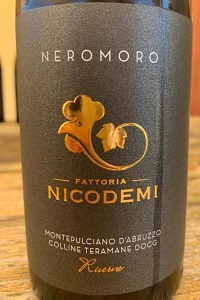 Montepulciano d'Abruzzo Colline Teramane Riserva Neromoro 2014
94/100 - € 27
A distinct ruby color that is not opaque and has light, garnet reflections. The aroma is more humoral with scents of damp earth, violet and licorice root. The mouthfeel has slightly (and unexpectedly) more body and is also fresher than the 2015 in the attack, fuller with a flavorful finish that has notes of damp earth and cherry, while the tannins are a tad rough. Surprising with a long life ahead of it.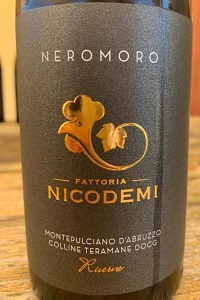 Montepulciano d'Abruzzo Colline Teramane Riserva Neromoro 2013
96/100 - € 27
A dark, opaque ruby color with light garnet hues. The aroma is smoky, pleasingly feral with a hint of tar on a solid base of violet and cherry, all nicely mixed together. The mouthfeel has body but is soft, smoky, with a saline finish. A masterpiece.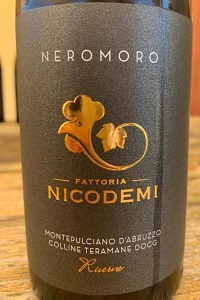 Montepulciano d'Abruzzo Colline Teramane Riserva Neromoro 2008
89/100 – n.d.
An opaque ruby-garnet color with a bouquet that opens with a note of sweet wood (vanilla and chocolate) followed by scents of black cherry and tar. The mouthfeel is even wrapping while the tannins tend to be drying – something rare for a Montepulciano d'Abruzzo.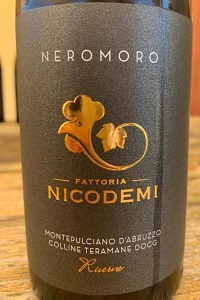 Montepulciano d'Abruzzo Colline Teramane Riserva Neromoro 2006
85/100 – n.d.
An impressive color, a deep and shiny dark violet untouched by age. After an attack distinctly dominated by wood (chocolate and coconut), the aroma evolves with notes of black cherry and damp earth. The mouthfeel is very rich, almost solid, with soft tannins but dominated by wood. Frankly, this wine lacks a little personality. Only for those who love this style.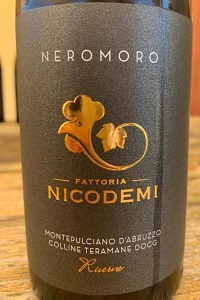 Montepulciano d'Abruzzo Colline Teramane Riserva Neromoro 2001
91/100 – n.d.
A deep, opaque ruby-garnet. After an initial note of vanilla, the bouquet opens with scents of cherry, black truffle and a hint of damp earth. The full mouthfeel has sensations of tar with a fresh finish. This was the only Neromoro sampled at its peak, a dark and wrapping wine that has an almond, slightly bitter finish that in ten years has improved by losing the excessive wood. The dark side of Colline Teramane.
Related Products
Product
Producer
Date of publication
Author
Read
Neromoro Riserva 2015
Montepulciano d'Abruzzo Colline Teramane
Fattoria Nicodemi
10/16/20
Francesco Annibali
An opaque, dark-ruby color. The bouquet opens immediately with dark notes and those of cork followed by one of violet on a cherry background with a pleasing animal sensation. The mouthfeel has a...
Leggi tutto
Neromoro Riserva 2014
Montepulciano d'Abruzzo Colline Teramane
Fattoria Nicodemi
10/16/20
Francesco Annibali
A distinct ruby color that is not opaque and has light, garnet reflections. The aroma is more humoral with scents of damp earth, violet and licorice root. The mouthfeel has slightly (and...
Leggi tutto
Neromoro Riserva 2013
Montepulciano d'Abruzzo Colline Teramane
Fattoria Nicodemi
10/16/20
Francesco Annibali
A dark, opaque ruby color with light garnet hues. The aroma is smoky, pleasingly feral with a hint of tar on a solid base of violet and cherry, all nicely mixed together. The mouthfeel has body but...
Leggi tutto
Neromoro Riserva 2008
Montepulciano d'Abruzzo Colline Teramane
Fattoria Nicodemi
10/16/20
Francesco Annibali
An opaque ruby-garnet color with a bouquet that opens with a note of sweet wood (vanilla and chocolate) followed by scents of black cherry and tar. The mouthfeel is even wrapping while the tannins...
Leggi tutto
Neromoro Riserva 2006
Montepulciano d'Abruzzo Colline Teramane
Fattoria Nicodemi
10/16/20
Francesco Annibali
An impressive color, a deep and shiny dark violet untouched by age. After an attack distinctly dominated by wood (chocolate and coconut), the aroma evolves with notes of black cherry and damp earth....
Leggi tutto
Neromoro Riserva 2001
Montepulciano d'Abruzzo Colline Teramane
Fattoria Nicodemi
10/16/20
Francesco Annibali
A deep, opaque ruby-garnet. After an initial note of vanilla, the bouquet opens with scents of cherry, black truffle and a hint of damp earth. The full mouthfeel has sensations of tar with a fresh...
Leggi tutto
Fattoria Nicodemi

03/05/13
Redazione
Alessandro and Elena Nicodemi, who are Romans by birth but have chosen Abruzzo as their home, have been successfully running their family winery for some years now. It is located in Notaresco, in Val...
Leggi tutto
Related Articles