Spiria 2016, a Cococciola wine from Colle Moro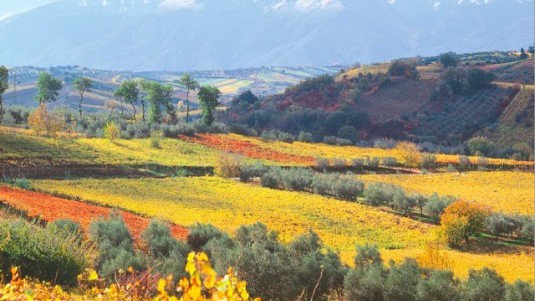 Cococciola is a wine grape that was recently rediscovered in its land of origin, the province of Chieti, and Colle Moro has made a simple yet intriguing wine from it: Spiria 
While over-shadowed by the success of Pecorino, Cococciola is another white wine grape native to the region of Abruzzo and it is cultivated in small areas in the province of Chieti and, to a lesser degree, in northern Puglia. It grows well producing compact bunches with fat and round grapes and thanks to its adaptability does not demand any particular weather conditions or soil compositions.
The vines are traditionally trained on Pergola Abruzzese trellises and the grapes are perfect for picking at the beginning of October. Cococciola is thus a late-ripening variety for which choosing the right moment for harvesting is essential to avoid any unbalances in the winery, especially in regard to the grape's acidity which is its ace-up-the-sleeve.
The Cococciola wine from by Colle More stands out for the precision taken during the winemaking process to allow the varietal to fully express itself. This is a wine that will certainly intrigue curious wine lovers.
Cantina Colle Moro 
Owne : 670 Soci
Via del Mare, 35-37
66030 Guastameroli di Frisa (CH)
Tel: +39 0872 58128
Fax: +39 0872 58288
[email protected]
www.collemoro.it
Facebook : ColleMoroWines
Year of foundation : 1961
Hectares of vineyards : 1.600
Total Bottles Produced : 13.000.000 circa
Related Products