An unknown Verdicchio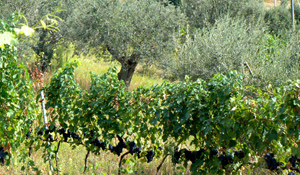 It is a name very few know and not even I had heard it until a couple of years ago. Antonio Failoni lives where he has his vineyard and winery in the lower part of the Castellaretta district, in Staffolo in the heart of Castelli di Jesi.
Antonio is self-taught and worked a number of jobs in order to be able to buy his vineyard. "I'm from the city so I'm not a farmer and it took me three months to get used to the silence of Castellaretta". He does everything himself in the vineyard and the winery and the input from his colleagues is essential even if it comes only at trade fairs. "I don't even know if it is organic or not, all I know is that it's wine".
He actually makes two wines: Verdicchio dei Castelli di Jesi Classico, "which quality-wise is a Superiore but I did not want to waste time with certifications", and Esino Rosso which here is made not as a fall-back wine.
If you visit the estate (keep phoning because Antonio doesn't always answer) you can still buy the Verdicchio 2008 which is simply fabulous.
Related Products