Umbrian fire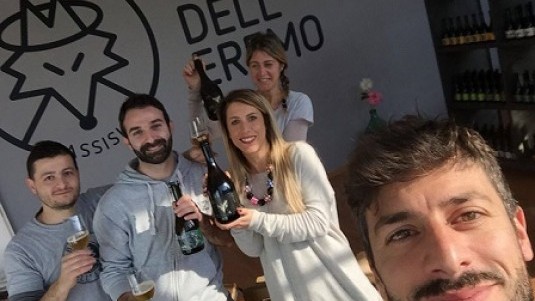 Legend (or history for believers) says that St. Francis of Assisi 'tamed' the ferocious wolf of Gubbio. This encounter or, more precisely, the intimate rapport between the wolf and the saint, has been remembered in the world of beer by the Birrificio dell'Eremo (the Hermet Brewery) in Assisi with both with a tripel, Fuoco, and the logo of the brewery itself: the head of a wolf with a halo and surrounded by a circle.
Birrificio dell'Eremo began operation in June 2012 thanks to the passion and love Geltrude Franchi and Enrico Ciani have for the drink of Ceres with the first responsible for sales and marketing while the second is the master brewer. In just a few years, this team of husband and wife have created one of Italy's best craft breweries with products that not only have a well-defined style (Belgian and American) but more important brews that are pleasing, rich and clean. Despite having only using a 500-liter setup, Birricifio dell'Eremo beers are famous even outside Italy. And this has been possible thanks to excellent earnings and an engaging and functional packaging (the labels indicate the level of bitterness, carbonation and so on) which has been winning over new converts.
Here we look at Fuoco simply because on the label is depicted a sorrel-colored and worried-looking wolf, a figure that has nothing to do with what is in the bottle which is pure sensuality in beer form… almost like a miracle of St. Francis.
Related Products