The fragrant Su 'na Rota from Contromano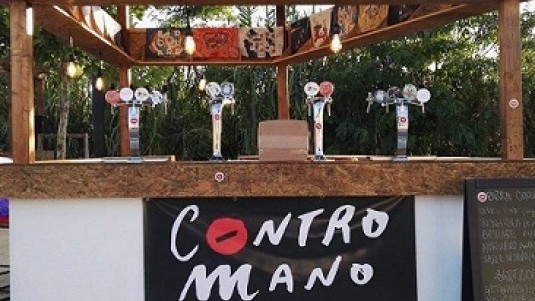 Contromano is a micro-brewery on the outskirts of Rome that was set up by four young men: Michele, Matteo, Luca and Paolo. Su 'n Rota is their European Pale Ale, an adaptive and very enjoyable beer. 
One of the most prolific activities among young entrepreneurs in Italy today is micro-brewing. Investments, ideas, easement, leases and guaranteed loans are come into play when realizing a dream made up of water, hops and barley, an opportunity for young people and, sometimes, the not-so-young. Despite over 12 years of uninterrupted a dynamic growth for micro-brewing , which reached 1,241 breweries in 2016, the Italian State has done nothing to help this sector, with most of the funds coming from the European Union and the Regions.
This Made in Italy reality, 45% of which have a turnover of less than 100,000 euros a year  and almost half have only one employee, is then taxed as if it were a multinational brewing company. The same goes for all the red tape they have to deal with, which in Italy is no small thing. In other, more bureaucratically efficient countries like Belgium and Germany, those who open a microbrewery receive aid and support aside from what of available through the EU. It is no secret that the alcohol lobby in Italy does not represent the micro-brewing sector, nevertheless, the position of the institutions is deplorable in regard to a phenomenon that has lifted many young people out of unemployment  and proven to be far more advantageous than the Italian-style welfare system.
Given this situation, the young people who do go into the beer business are considered to be almost heroes for the local economy and paladins of typicity and tenacity, as well as the creativity that has best symbolized the Italian spirit.
Among these heroes are Michele, Matteo, Luca and Paolo of the Roman brewery Contramano , a micro-brewery situated just outside the Grande Raccordo Annulaere (ring road) in Torre Maura that is very cutting-edge and creative. Professionalism and inventiveness  are the traits of this business that produces beers that have a very precise and 'clean' style, with touches of genius when it comes to packaging.
Brewing at Contromano is truly serious and of top quality and at present is composed of a line of nine beers  (Opera Prima, Su 'na Rota, Bipolare, Serpe 'n Seno, Mare Nero, Sopra la Panca, Jam Session, Mirakel and 24H) which are each very different from the other, from lagers to a Milk Stout, yet at the same time pleasing. By exploring the different hops and malts combinations they have created beers for any occasion and that can be paired in a thousand ways.
As an example of Contromano production we have chosen Su 'na Rota because to us it seems a metaphor of how these Made in Italy heroes have strived to expand brewing in Italy and despite Italy.
Related Products