The beer of Santa's elves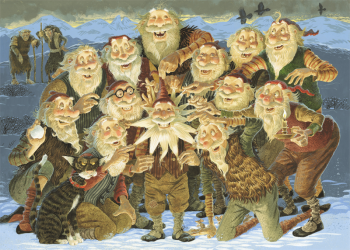 In Iceland, the Jólasveinar are the "Yuletide lads", the mythical characters of Nordic folklore believed to have inspired the legend of the elves who were Santa's Little Helpers. And it is to them that the Ridgeway Brewery in South Stoke, Oxforshire, heir to the glorious Brakspear Brewery, has dedicated their special line of Christmas beers. The brewery is run by an authentic and amazing genius, former Brakspear head brewer Peter Scholey, who is also an anti-conformist and revolutionary as evidenced by the names of his Christmas creations. These include Reindeer's Revolt and Reindeer's Droppings as well as Bad Elf, Very Bad Elf and Serious Bad Elf, all some kind of reaction the heavy workload Santa Claus imposes on them every year to preparing and deliver gifts for Christmas.
Bad Elf  (4.6%) is a toasted ale with a malty aroma which is fresh and full-bodied at the same time and has an aftertaste of honey, while Very Bad Elf  (7.5%) is dark, soft, dense and quite alcoholic with toasted scents of hazelnut, walnut and macadamia. And it does not stop here. Seriously Bad Elf  (9%) is a British-style Belgian tripel distinguished by gluttonous notes of candied citrus fruit, acacia honey, toffee and medicinal herbs that usher in a rich mouthfeel with a subtle and persistent carbonation. As Christmas gets nearer, the elves get even more out of control and dangerous and so for them there is Criminally Bad Elf  (10.5%), a barley wine with notes of caramel, dried fruit, cacao and coffee together with toasted sensations and those of cherries preserved in spirits. The mouthfeel is sweet and structured with a pleasing bitter orange flavor. The line ends with a brew one assumes is consumed on Christmas Day, when all the work has been done and the elves are at the end of their tether: Insanely Bad Elf.  This is an Imperial Red ale (11.2%), an authentic homage to the excellence of British brewing and the subject of the following review.
Related Products