Ambrata, the flagship beer of Maltus Faber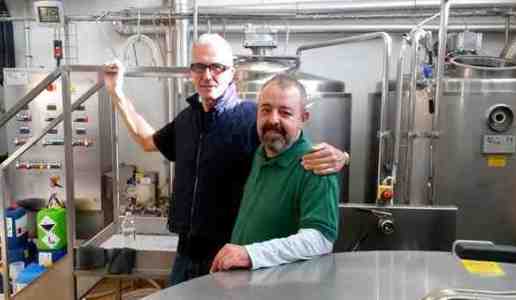 A panoramic spot over-looking Genoa's beautiful bay and port is home to the Maltus Faber brewery that produces this Ambrata Amber Ale.
The Maltus Faber brewery was founded a dozen or so years ago thanks to a common passion of two friends who worked together at the Genoa dairy: Massimo Versaci, Malthus, and Fausto Marenco, Faber the artisan. At first it was more of a hobby involving some homemade brews. Fausto's passion and curiosity led him to join an association dedicated to brewing from whom he acquires his first brewing apparatus and he produced a number of brews that were then only consumed by association members. These were sufficient to convince him to break from the association and become an independent producer and present his brews at events dedicated to craft beers. In the meantime, he and Massimo founded their own Associazione Culturale "La Compania della Birra" (The Beer Company Cultural Association) and they set off for Belgium to discover the wonderful world of brewing and learn the expertise needed to set up a full-scale brewery of their own.
The headquarters of the Maltus Faber brewery is very important because it is at an historic address for beer in Genoa, via Figino, 3. At the beginning of the 20th century, in fact, it was home to the "Fabbrica di Birra Cervisia" brewery that in the 1970s was acquired first by the Dreher group and later by Heineken, which ended production in 1985. When the brewery was controlled by Dreher it became an important school for master brewers. Maltus Faber has set up a permanent exhibition of historical material in the old brewery including bottles, glasses, caps, labels, photographs, books and publicity posters that recall when the site was the symbol of beer in Genoa.
They also revamped the production facility and on June 5, 2008 produced their first beer, In Primis. This was followed by a number of other high-quality craft beers, all top fermentation, unpasteurized and unfiltered with the effervescence created through secondary fermentation in the bottle. Before being bottled, a small amount of sugar is added to the brew that ferments with the leftover yeast suspended in the bottle. The carbon dioxide created is thus totally natural.
All the brews developed over the years are clearly inspired by Belgian ones even if the creativity of the brewer has left a personal and by now easily recognizable mark on each one. Today they produce 16 different brews divided into four lines: Birre Bandiera (Flagship Beers) Sweet Stout, Wheat, Amber Ale, lager, Amber beer, Brune, Triple, Hop Blonde Hop Ale, Triple Hop, Extra Brune, Imperial; Birre Speciali (Special Beers) Brune, Triple, Hop Blonde Ale, Triple Hop; Birre da Meditazione (Contemplative beer) Extra Brune), Birre Barricate(Barrel-aged Beer) Extra Brune Barricata, Imperial Barricata); and Birre Stagionali (Seasonal Beer) Birra di Natale (Christmas Beer) and Birra di Marzo (March Beer).
From Cronache di Gusto
Related Products