Ama, a Felliniesque blonde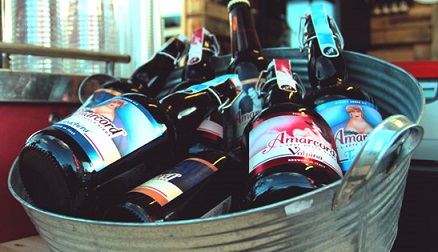 The only name possible for a brewery in Rimini is Amarcord, in memory of the 1975 Oscar-winning film by the great director and Rimini native Federico Fellini. The Amarcord brewery in question was founded in 1997 and was originally situated on the seaside drive of the coastal city before it was transferred in 2009 to Apecchio, in the Apennine mountain area of the Marche region. The reason for the move was to have quicker and easier access to the precious water from Monte Nerone, the 'secret ingredient' of all their brews. The brewery today is famous throughout Italy, where it is one of the best-selling domestic craft beers, and abroad. It is run by Andrea Baglia together with Andrea Pausler, an authentic genius of the 'wort' and former master brewer at the celebrated British brewery Thornbridge.
Amarcord is not only a quality product but also one of cultural and territorial excellence in which technology, history, art, literature and the land come together and mix in every beer which, in any case, is always a strictly craft product. The labels for each version are done by an artist: Robert Miccoli, who designed the rooms of Rimini's La Gradisca Hotel, did those for the classic line; the ones for the Ama line were created by Milton Glaser, a famous American illustrator known throughout the world for his "I Love New York" slogan; while the habillage for the Riserva Special was created by the late poet and writer Tonino Guerra, who wrote the script for the film Amarcord together with Fellini. The recipe for this latter beer was the result of a collaboration with Oliver Garrett, the master brewer at the Brooklyn Brewery in New York, and includes sour cherries, prune and wild flower honey, all products of the area of the poet from Santarcangelo di Romagna.
The beer we review here is part of the Ama line and was created by Oliver Garrett primarily as a table beer. This line has three basic beers: Bionda (Blonde), Bruna (Brunette) and Mora (black haired), which are respectively a Golden Ale, a Strong Belgian Ale and an Imperial Porter, all exceptionally well-made and rich. What truly stands out them is the absolute contiguity with the style of reference and, at the same time, a totally local typicity that makes each of the three brews unique and original. The scent of coffee in the Mora, the spicy notes of the Bruna and the citrus ones of the Bionda make them all Mediterranean or, better yet, Adriatic in that they are luminous but not too much so, 'warm' yet never invasive, pleasing but never exhausting. In other words, a liquid version of Fellini's fantasies that everyone can appreciate.
Related Products