Alta Quota, a social beer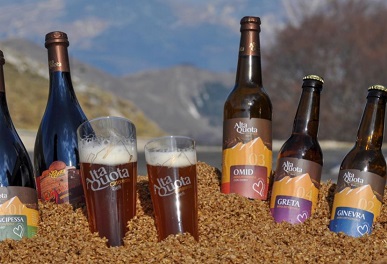 Beer makes news when it is top quality, innovative, trendy or brings people together but it also is newsworthy when it performs a social function, helping men and women build a future for themselves. In this latter category is the Alta Quota brewery in Cittareale, the province of Rieti, an excellent example of integration, on the one hand, and professionalism, on the other.
It all began when five Italian and four Afghan youths came together in 2010 to create an experimental laboratory to produce and sell beer inside a structure that used to house an elementary school. At the helm of the project was Claudio Lorenzini who developed it within the framework of Cittareale's office for the protection of asylum seekers and refugees, established in 2008, and he still runs the brewery today.
While lacking in experience, Lorenzini and his crew were full of determination and created Principessa, a lager made with the addition of spelt, a typical grain for the area. That same year of 2010 they presented it at the Salone del Gusto trade fair in Turin and it was an unprecedented success. The success first led to the transfer of production to Selvarotonda, in a 90-square-meter site, and then Ricci, another district of Cittareale, where the brewery was housed in an over-700-square-meter structure.
The rest is history: 13 beers produced plus a digestive cordial; a working economic and productive structure, which also includes a tavern, built by carpenters Mohammad Gul and Mohamed, two Afghan youths who arrived through the refugee program; and a museum of agricultural tools and equipment.
Alta Quota brews have character, are rich in aromas and generous in volume. Here we have selected 03 Omid, a brown ale with an impenetrable color and great intensity made with the addition of Cittareale spelt. One final note: the vast majority of the Afghan youths who benefitted from this program have decided to remain in Cittareale to either work at the brewery or the tavern, thus becoming to all effects authentic town natives.
Related Products