Abiura, a Saison from Brùton dedicated to Galileo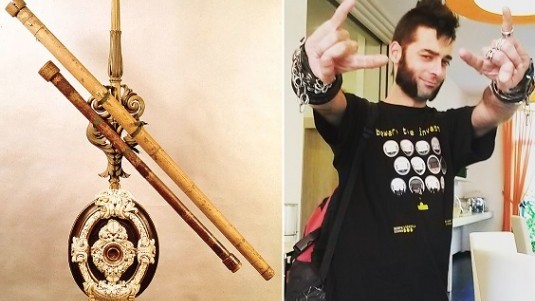 To mark the 450th anniversary of the birth of Tuscan astronomer and physicist Galileo Galilei, in 2014 Agostino Lenci, Ubaldo Cerri, Jacopo Lenci and master brewer Andrea Riccio, all from the Lucca brew pub Brùton, created a Saison and named it Abiura.
Brùton is a highly innovative and experimental brewery and thus totally in line with the mentality of the astronomer from Pisa. Its name comes from the ancient Minoan word for beer and this to underscore the Middle Eastern and Mediterranean origin of the drink of Ceres.
The Lucca brewery's style is eclectic to say the least with production filled with references but without any apparent common thread. Nevertheless, what the line of production, from white beer to barley wine, has in common is the great attention paid to brewing which results in flavors and aromas that are exemplary for a micro-brewery or brew pub.
Abiura is distinguished by its personality, linearity and terseness. It is a traditional Saison without seeking to please or employ aromatic shortcuts, a golden liquid of pure balance, sunny as is the effigy on the label that recalls the celebrated Pisan scientist. This is a brew that is almost an Enlightenment manifesto and is dedicated to the memory of someone dedicated to combating the worst of all evils: ignorance.
On July 3, 1981, the Holy See set up a special commission to examine errors made by the Holy Office in the trial of Galileo. After more than 11 years of debate and 359 years after his conviction, on October 31, 1992, Cardinal Poupard declared that the 1633 sentence was unjust. Better late than never… and something to drink to… obviously with an Abiura.
Related Products