La Serpe from Chianti Brew Fighters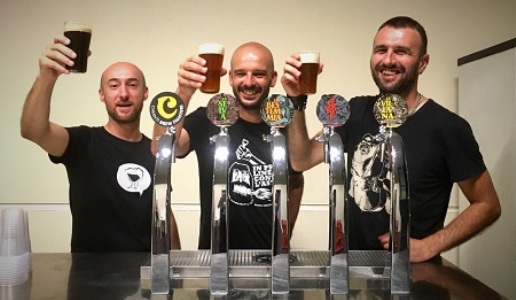 A beer produced in a land of wine, Radda in Chianti, by the three partners of the Chianti Brew Fighters brewery – Stefano, Marco and Giulio – using the California Common style.
Radda in Chianti – together with Castellina, Greve and Gaiole – is in one of the loveliest places in Italy: Chianti. It is an historic area for wines, Chianti Classico has been produced there since 1718, and since 2016 it has been home to the Chianti Brew Fighters brewery that successfully produces the beer we present here: La Serpe (The Serpent).
Brewery partners Stefano, Marco and Giulio have known each other since they became friends in high school. Stefano and Giulio frequented Marco's beer shop and quickly fell in love with quality craft beer. This led them to take tasting courses offered by the Unionbirrai producers association and catch the brewing bug. Their first attempts with homemade wort were very disappointing but they kept studying and over time the beers coming out of their small garage brewery became more and more balanced and precise. The three friends share a preference for simple and balanced brews that are attenuated but easily recognizable. Inspired by the American and Belgian style beers, they decided to open a brewery in Radda. "We wanted to make beer in the land of wine. This was not a provocation but an alternative way to look at the land and being alternative has always been our way of thinking and attitude. It is our motto and our philosophy".
Their line of production is basically an improved version of what they were brewing back in the garage: a dry and very drinkable Belgian-inspired Golden Ale; a California Common or Steam Amber Lager (La Serpe); an Irish-style Stout, a dark brew with toasted scents and an acidic streak; and a Belgian-style Strong Ale that has scents of dried fruit. All the brews are in line with the styles they are inspired by but with a personal touch added to distinguish them. They recently came out with a White Beer that was the result of their desire to make an Italian Grape Ale (IGA), a beer made using grape must (an obvious homage to Chianti), which undergoes spontaneous fermentation and matures in barrels and is almost comparable to the so-called natural wines.
La Serpe
Related Products