La Serpe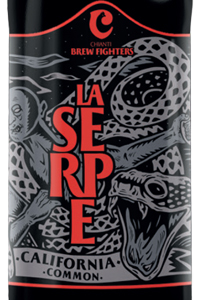 | | |
| --- | --- |
| Author | Mauro Ricci |
| Date of publication | 05/25/18 |
| Country | Toscana |
| Nation | Italia |
| Price | 0 € |
California Common or Steam beer is a lager made in a style that is totally Californian in origin and dates back to the end of the 19th century. Because there were no refrigeration systems there at the time, a particular, low fermentation yeast was used to make beer that adapted surprisingly well to the temperatures in California were higher than those where normal lagers are brewed.
The white head of La Serpe has a nice consistency and a medium texture while the liquid below it has a clear, slightly veiled amber color. The aroma has light scents of honey, caramel, fresh fruit and herbs. The attack of the mouthfeel is rounded and soft with a sensation of malt that slowly evolves into a bitterness that persists through the dry aftertaste creating a rewarding sensation that entices another sip. This is distinctly drier that a traditional lager.
5 euros for a 33cl bottle.