La Calavera from Birrificio Pontino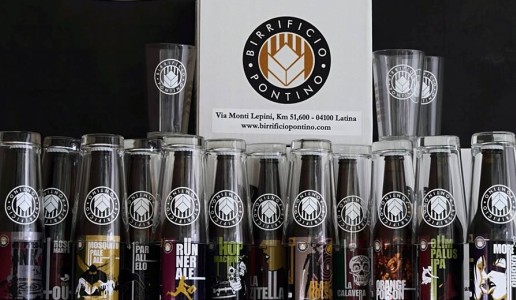 Produced by the Birrificio Pontino brewery in Latina, La Calavera is a light-bodied, summer lager.
This week's beer, La Calavera, is from a brewery that was born from Roman passion; Birrificio Pontino in Latina. It began when four friends fell in love with beer and learned more about it at the Trastevere pub Ma che siete venuti a fa (What did you come for) and decided to turn their passion into a project to brew beer themselves.
A (chance) encounter with master brewer Mike Murphy and the friendship that grew between them were fundamental for the project's future. The small brewery began to take shape using used equipment from Moreno Ercolani's brewer Olmaia while a "business trip" to see Mike Murphy turnout out to be key to acquire automatism and security.
Then the fortuitous closing of the brew pub Magoo in Aquila, due to the earthquake there, allowed them to acquire a prestigious Compact Wachsmann brewing system that greatly enhanced their technical and productive capacity.
Although the Pontino brewery's style followed that of Anglo-America beers, due the influence of Mike Murphy, there comes a time when a brewer has to stray from the designated path and experiment. Creativity must be nurtured and experimentation led to brews with tropical fruit that sought to capture the intrinsic characteristics of the fruit but not make a juice. An example is their 41° Parallelo in which kiwi creates a connection with the land (Latina produces PDO kiwi, ed.note) and exploits the light acidity of the fruit to make the beer a little more tart.
La Calavera was created to meet the need for a refreshing beer on a hot summer's day on the Pontina plain.
(Freely adapted from an article in Cronache di Gusto)
Related Products