Al Zabir, a beer with the sweetness of Zibibbo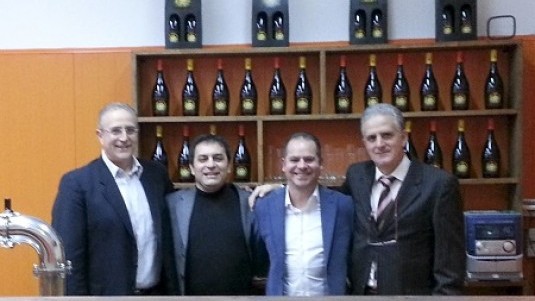 Al Zabir is an Italian Grape Ale from the Sicilian brewery Irias made with barley malt and dried Zibibbo grapes.
Salvatore (Turuzzu) Blandi is a young homebrewer in Sant'Agata di Militello, in the province of Messina, who lives near the district of Irias. One hot summer weekend, during the soccer World Cup, he joined a group of friends with a box of 66cl bottles and said: "These are my beers. Try them". It was 1994.
The history of Irias beer is the history of family and friendship that brought together four beer lovers (Massimo Costanzo, Matteo Olivo, Franco Blandi and brewer Salvatore "Turuzzu" Blandi) who came up with the slightly crazy idea of setting up business. This took a while to become a reality due to market conditions and the need to find the best water, which came from the Nebrodi Mountains, and the best ingredients the area to mix with it, including barley and hops. Then recipes had to be tried and tested but the plan of the four friends finally became a reality and in 2013 the Irias brewery got off the ground.
The first beer produced was a successful blend of the aromas and flavor of prickly pear with those of a Belgian Specialty Ale in which a careful and contemplated selection of English malts and hops created an original, controlled explosion of the original Sicilian fruit in a beer that was dry, smooth and captivatingly easy to drink.
This first success, the product of meticulous and time-consuming effort, was followed by other creations: Ambra, made with Sicilian orange peel; Aura, aromatized with some slightly dried grapes; Cincu Tummina, a "Tumminu" (Tumulo is an ancient measure of cultivated land) that has a variety of ancient Sicilian grains (Bidì, Maiorca, Russello, Perciasacchi, Tumminia) in the must creating a fresh wheat ale with scents of grassy earth soften by the malts.
The brews are for the most part inspired by European styles, English and Belgian, with the aromas taking as much possible from what Sicily can offer. This goal has led to a project to cultivate barley and hops on the island itself.
Related Products